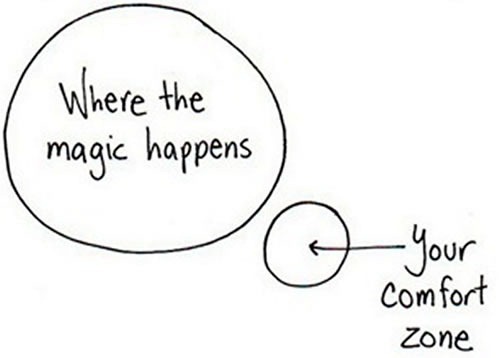 I love this. I came across this picture on the internet the other day, and it really motivated me! This is what I think of when I need a little extra motivation to do something that requires me to step outside my comfort zone.
Like when I was a missionary in the Philippines. I'm naturally not super outgoing and talkative around strangers. But when I got out there and put on that black name tag, I felt obligated to break out of my shell. I knew the gospel of Jesus Christ was absolutely true and I wanted to share it with everyone. The only thing holding me back from making miracles happen in other people's lives was the limitation of my own comfort zone. I knew I would need to get outside that comfort zone of mine and talk to everyone in my path.
So I embraced awkwardness! I forced myself to open my mouth and strike up conversations with everyone I came in contact with, telling myself that the worst case scenario was awkwardness and making a fool of myself, but the best case scenario could be opening the gates of the celestial kingdom to one of my brothers or sisters.  It took a lot of courage to do so, and the "magic" didn't always immediately result. But gradually, talking to people about the gospel became less and less awkward and more and more second nature to me. Because of that choice to step outside my comfort zone, my experiences were so much richer and sweeter than if I let myself shy away from opening my mouth. I met so many people I never would have met otherwise, and I was able to share my testimony of the restore gospel with them all. Because I decided to step out of the ordinary, my whole mission experience became extraordinary!
Isn't it true? Our whole experience changes when we choose to act out of faith instead of fear. Richard G. Scott said,
When faith is properly understood and used, it has dramatically far-reaching effects. Such faith can transform  an individual's life from maudlin, common everyday activities to a symphony of joy and happiness.
Sounds pretty magical to me.