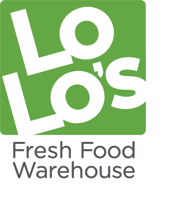 I love Lolo's! When they opened a few months ago, I was expecting them to be just like all those other grocery stores that have opened up at that location in the last few years. (They all went out of business). But Lolo's is doing things a little differently, offering deals that make it a hard place to pass up and making them very competitive in Provo. So I think they're going to do well. At least I hope they'll stay in business, because they sure save me a lot of money and make my life easier.
Why I love Lolo's:
They price match! (This bullet point deserves a hallelujah chorus singing in the background). By far, the best reason to shop at Lolo's. It's so nice to be able to just go one place and get all the best prices. And in my opinion, it's better than price matching at Walmart because…
A) Walmart doesn't have certain brands, such as Western Family (but Lolo's does!)
B) Walmart doesn't always have the greatest selection of produce (but Lolo's does!)
C) It's more of a hassle to price-match at Walmart (they have tighter restrictions and the cashiers aren't always trained very well on how to do it).


D) Lolo's closes on Sundays (whereas Walmart doesn't) so I feel better about taking away others' business to support them. 
Even if you don't price match, they still have great prices.
They sell things in bulk! (nuts, seeds, rice, beans, granola, dried fruit, candy, etc.)
They're almost always open (Used to be 24-7, but I don't think they are anymore..but still great hours)
The staff and managers are very friendly & nice.
They have a "food storage" corner (with a can sealer machine that you can use!)
Things that are almost always a good price at Lolo's:
Dole Spinach ($1.27)
Organic greens (big containers usually under $4)
Small Hass Avocados (2/$1)
Lettuce (under $1)
Produce! Most of their produce is the lowest price in town.
Whole Milk ($2.60 or lower)
Western Family Liquid Laundry soap ($5-6)
Large eggs ($1.18)
White flour tortillas (under $1)
Progresso Soup ($1.25 – $1.45)
Don Julio tortilla chips (under $1)
*I'll keep adding to this post as I think of new things or other bits of info that might be helpful.
Things that are often a better price at Lolo's:
Certain Cold Cereals
Ice cream
Frozen veggies
Almost everything, come to think of it… 😉 Often I'll go with the intention of price-matching something, but come to find out they've got it marked even lower there.
Things I usually get elsewhere:
Lettuce (sometimes the ones at Lolo's, albeit cheaper, aren't always as big and full as those at Macey's)

Whole wheat flour tortillas (Lolo's seems to have a bit smaller of a selection of brands than Macey's)
Whole wheat pasta (They have the kind made with 51% whole wheat, but I can't find 100%)
Organic produce (not much of a selection there)
But other than that, I love Lolo's! I go there for pretty much everything now.
Club Lolo's:
When I first saw their sign encouraging customers to join Club Lolo's, their special promotion for members was that you can "Buy 9 gallons of milk and get the 10th one free." My immediate thought was, Um, seriously- Who does that? Later I realized that it's not meaning that you have to buy all 9 gallons at once. Haha. But hey, both my mom and my husband also had the same first impression, so maybe it not just because I'm blonde 😉 Just thought I should clarify in case anyone else was thinking the same thing –I did actually see someone filling up their shopping cart with 10 gallons of milk one time. (OK maybe she was getting it for some huge event or something, but it still made me chuckle a little). The only thing I wish were different is that they don't just automatically take it off your bill. Instead they give you a "free milk coupon" after you've bought your 9th gallon, which you then must redeem within a week. A bit of a hassle for a person  like me who is so good at misplacing papers and things, but that's okay. It's still a very nice perk.
Another thing I like about Club Lolo's is that they email you their ads every week. One at the beginning of the week and then one later on, advertising special weekend deals. But wait! That's not all. (hehe, this is starting to sound like an advertisement) They also include special membership coupons, offering a free something-or-other if you spend a certain amount that week (usually $20). I.e. 1 free can of spaghetti sauce, chili, a box of saltine crackers, 2 free candybars, etc. I'd be spending this much anyways, so it's a nice perk. Oh, and you can just show them the coupon on your phone instead of printing it out, which is nice. Sometimes they offer special deals, like a free $50 Lolo's gift card if you spend such and such amount within a certain time period. During thanksgiving week, they offered a special promotion where if you buy $150 worth of groceries, you get a free 20 lb. turkey for free! So we stocked up on food storage and got our free turkey.
So in other words, Lolo's is awesome. Awesome enough to blog about. I say let's keep this place in business!