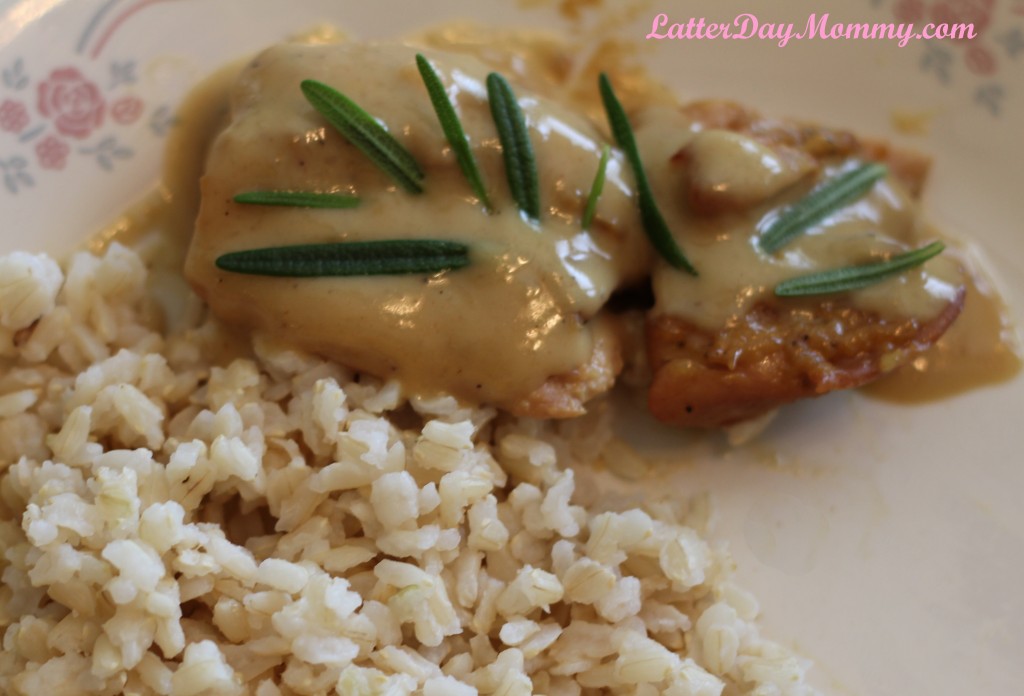 I found this recipe on Pinterest. Because of all the raving reviews I read, I caved in and went out and bought Dijon mustard, rice vinegar, and fresh rosemary (which I never use normally in cooking). So yeah, I decided to try it out and then tell you how it  went, so you can be a more informed Pinterest recipe tryer-outer (yes, I just made up that word). If you're curious, you can find the original recipe here. Yes, the picture looks mouthwateringly delicious, but I recommend reading this whole review before you decide whether or not to up 'n make it for all your friends.
---
1 1/2 – 2 lbs. boneless, skinless, chicken thighs
1/2 cup Dijon mustard
1/4 cup pure maple syrup
1 tbsp. rice wine vinegar
1/4 tsp. salt
1/4 tsp. pepper
1 Tbsp. cornstarch
Fresh rosemary
Preheat oven to 450 degrees. Line a 8×8″ pan with 2 layers of tin foil. In small bowl, whisk together Dijon mustard, maple syrup, rice wine vinegar, salt and pepper. Place the chicken thighs in the foil layered pan then pour the mixture on top of it. Turn the chicken around in the sauce to make sure it gets all coated. Bake, uncovered, for 40 minutes. Remove from oven and let chicken sit for 5 minutes then transfer to a plate. Do NOT discard the liquid. Immediately after plating chicken, whisk in the cornstarch into the liquid in the pan. You'll create a nice, thick sauce to drizzle over your chicken. You need to do cornstarch mixing immediately because the liquid needs to be hot in order for it to thicken properly. If it's still not thickening after 1 tbsp., you can add a little more. Sprinkle rosemary on top before serving. Serve with rice or potatoes or vegetables.
---
OK, now for my review of the "Holy Yum/Man-Pleasing" chicken:
I followed the recipe to a T. When I put it in the oven it didn't seem too convincing – it smelled very strong. But as it continued cooking, toward the end, it actually started to smell pretty good, and I began to believe. Yeah, well, it turned out all right but not exactly "holy yum" or "man-pleasing" in my book.  It was like when you taste a bite of something different, and you're glad you tasted it but you don't really have a huge craving to eat more and more. I really like how tender the chicken came out though after being cooked in the sauce. I think it had something to do with the maple syrup (or maybe it was just the fact that it was thighs not breasts). I wonder if there are other sauces that call for maple syrup. So yeah – the chicken itself was pretty good, but the sauce was just way too much mustardness for me. The rosemary added an interesting flavor – not bad. I served it with brown rice.
So, overall I'm glad I at least tried it for the experience. Now I know what Dijon mustard flavored chicken tastes like. I feel culturified. I think I prefer more normal savory types of sauces. Hold the mustard, please!  My tummy kinda feels mustarded-out right now. Was it "man-pleasing?' Maybe for some. My husband Alex was very sweet. After taking a bite he just smiled and said "Hmm.  Very…Different!" At least he had a sense of humor about it all. But he said he really liked how tender the chicken came out. We threw out the sauce.
They said not to make it if you don't like mustard. Well, I don't dislike mustard at all, so I decided to give it a go. Now after the fact, I would revise that recommendation and instead say, don't make it if you aren't like totally addicted to the taste of mustard, or if you wouldn't normally enjoy dipping your chicken in dijon mustard.  That being said, I could see it growing on you. It even started to grow on me as I ate it. But not enough for me to want to make it again. But I can see how some people might really like it, if they have the right taste buds for it. It was just. . .different.
---
[UPDATE: OK, now that it's been a few weeks since I made it, it's been growing on me and the thought of maybe making it again seems a little more appealing (mainly because I still have half a bottle of dijon mustard that I have nothing to do with). If I do decide to ever make it a second time, I'll try using chicken breasts instead of thighs (even though it might not be as tender) because that's what I already have on hand and I'll also cut the mustard in half. I also think I'll skip out on serving it with the sauce and I'll just use dried rosemary].
[UPDATE: OK yeah–it's been 4 months now. and I still haven't made it again. I'm glad I have dijon mustard though because I use it in my stroganoff recipe now. But I only use an eensy weensy bit. Any other ideas for things to make with dijon mustard?]