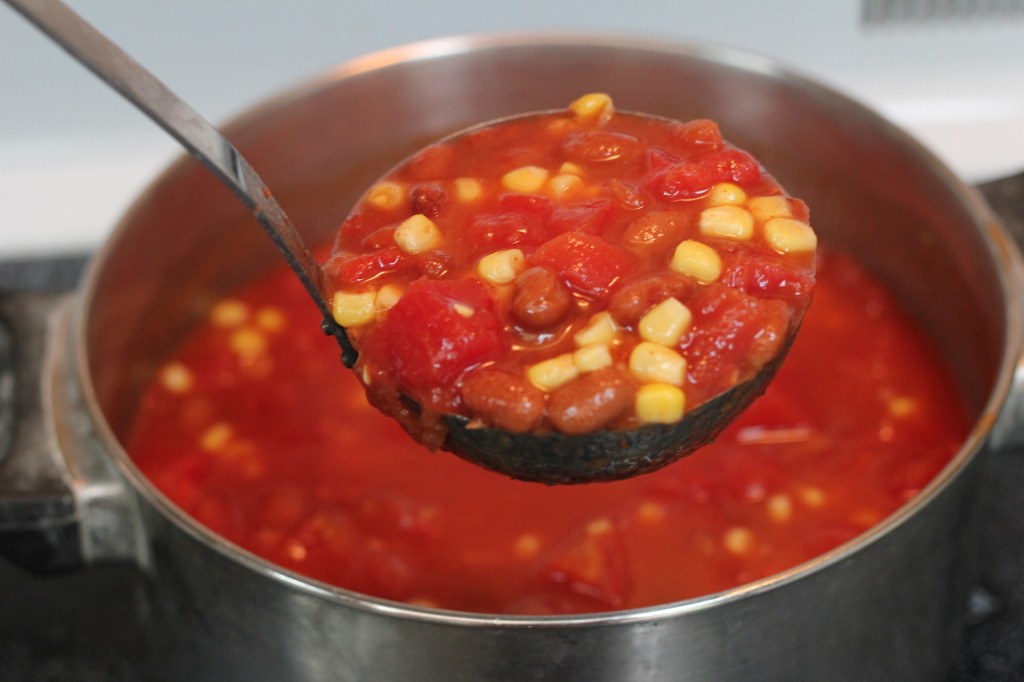 Here's the simplest ever taco soup recipe – This is what I make when I'm tired or don't really feel like cooking. It's easy because I can just use ingredients I already have on hand. I just grab a few cans from food storage and bada-bing! Dinner's done!
Ingredients:
1 can Chili (I use chili-flavored beans because it's cheap, but you can use the real stuff with meat too)
2 cans diced stewed tomatoes
1 can corn (with the juice)
1/2 package Taco seasoning
Toppings (optional):
Tortilla chips
Sour cream
Shredded cheese
Diced tomatoes or salsa
Shredded lettuce
Cilantro
Combine all ingredients in a big pot and warm up until it's hot! Serve with your choice of toppings. If you don't have Taco seasoning on hand, you can also just use chili powder (1 Tbsp-ish), garlic powder, and onion powder (1 tsp-ish each). You can also vary the amount of diced tomatoes and chili. Sometimes I make it with 2 cans of chili and 1 can tomatoes if I want it more heavy on the chili beans. Or 1 can black beans & 1 can chili, etc. You can add a little bit of ground beef as well if you feel like it, which makes it even yummier, but I only do that when I'm feeling ambitious. Either way, it tastes great and my family loves it.