I loved the April 2020 General Conference! It was so amazing! I want to share something that stood out to me that I thought was pretty interesting. 
First of all, to set the stage, this is important:
At the beginning of the year, speaking specifically about the upcoming conference and our need to "act now" in doing what he has asked us to do to prepare, President Nelson said the following: 
"This is a hinge point in the history of the Church, and your part is vital." 
The choice of words he used is very insightful! 
What is a hinge point?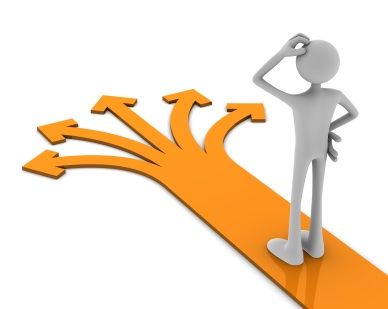 A hinge point suggests a turning point where you are going to see a significant change take place. It's the point where something literally pivots.
It's also a term used by teachers. A hinge point is:
"the point in a lesson when you need to
check if students are ready to move on,
and if yes, in which direction." 
Isn't that interesting? 
An Interesting Pattern
In light of that, I thought this was fascinating: During April's conference, did you catch how many times President Nelson repeated many of the challenges and directives he has previously given in past conference addresses and messages? It was pretty striking!
For instance, in his Saturday evening address, he spent a good amount of time emphasizing again the importance of restoring the correct name of the church1  (a repeat from the address he gave in 2018) and he again emphasized the importance of the ancient law of the fast2 (which was a main theme of his October 2019 address) as he again called for a church-wide fast for Covid-19 (a repeat of another call to fast he had made the previous week).
And then on Sunday morning, he renewed his plea3 (using those words) for us each to increase our spiritual capacity to receive personal revelation and learn how the Holy Ghost speaks to us (a repeat from that landmark address he gave in 2018, when he first became president of the church). He also emphasized again the importance of regular temple attendance and family history work, and of the need to be daily 'immersing' ourselves in the scriptures4  (a repeat from his plea5  in the October 2018 general conference, and previous talks  in 2017 and 2018). 
And what's more- he emphasized the need to hear, heed, and hearken6 to the words of the Lord. And of the importance of following the counsel of His prophets.  Why would he feel the need to do that? Could it be that maybe we, the church, as a whole, haven't been taking President Nelson's past invitations seriously enough? 
In light of the fact that he decided to focus the bulk of his remarks largely on repeating and re-extending earlier invitations— Could it be, perhaps, that we are not quite ready to "move on to new material" / other things the Lord may have in store for us?  
I just thought that was super interesting and insightful!
Let it Inspire Us to Greater Heights
I hope this doesn't make us feel discouraged but rather motivates us. I love President Nelson's encouraging and kind response to those who had not completed the specific challenges he gave to the sisters in the October 2018 conference: He said, 
"I hope that each of these invitations has brought you closer to the Savior. If you have struggled with any of them, please don't be hard on yourself. You can start today. The Lord is happy with any effort we make to draw closer to Him."
I believe he would say the same to us, with regard to these repeated invitations in this April's conference. I love President Nelson's ever optimistic outlook, even when we sometimes fall short. It inspires me and motivates me to do better!
Just for reference, I'll include some of his quotes here:
———
1. President Nelson said: "When we remove the Lord's name from the name of His Church, we inadvertently remove Him as the central focus of our worship and our lives."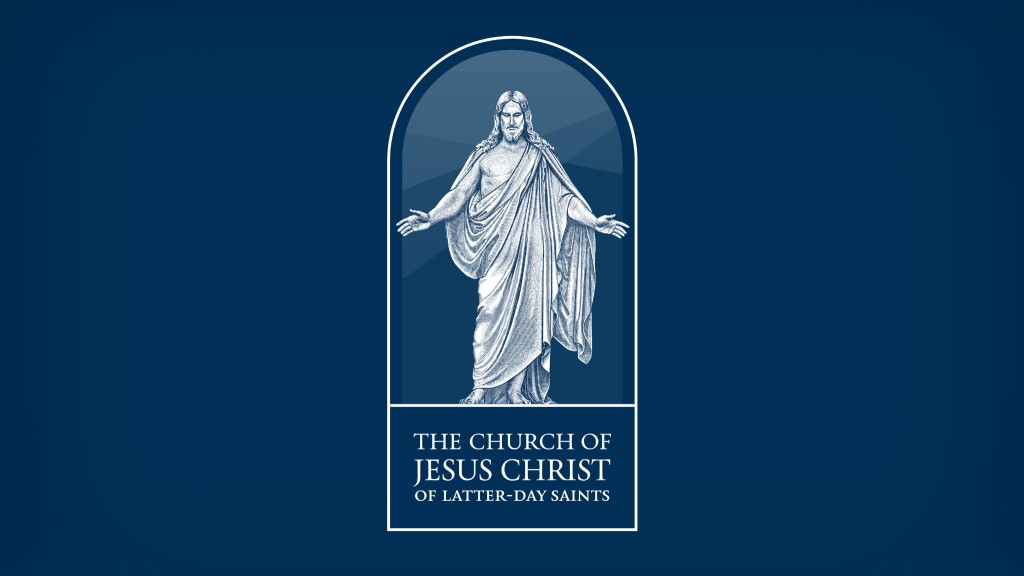 I really love the incredible promise given:
"I promise you that if we will do our best to restore the correct name of the Lord's Church, He whose Church this is will pour down His power and blessings upon the heads of the Latter-day Saints,17 the likes of which we have never seen."
(I looked up that footnote in his talk, and it pointed to a scripture that suggested an outpouring of knowledge from heaven. Isn't that exciting?  We know that in these latter days, "God will yet reveal many great and important things". What a wonderful time we live in!) I think it's interesting that President Nelson repeated this promise again in the April 2020 conference.  It seems like such a small & simple thing, but maybe that's the test (Alma 33:19-20, Alma 37:41,46). Who knows, maybe these invitations our prophet has felt impressed to give us are the very things that will prepare us for the greater light and knowledge coming down the road, that are only held back because we haven't quite yet done our part to be ready for / worthy to receive them?
(Just to note: From here on out I've bolded some phrases for emphasis and easier skimming/reading, but the italicized words were already italicized in the text of his original talks).
2. October 2019:
"To assist members of the Lord's Church in distress, we love and live the ancient law of the fast. We go hungry to help others who are hungry. One day each month, we go without food and donate the cost of that food (and more) to help those in need.
I will never forget my first visit to West Africa in 1986. The Saints came to our meetings in great numbers. Though they had little in terms of material possessions, most came dressed in spotless white clothing.
I asked the stake president how he cared for members who had so little. He replied that their bishops knew their people well. If members could afford two meals a day, no help was needed. But if they could afford only one meal or less—even with family help—bishops provided food, financed from fast offerings. Then he added this remarkable fact: their fast-offering contributions usually exceeded their expenses. Surplus fast offerings were then sent to people elsewhere whose needs exceeded theirs. Those stalwart African Saints taught me a great lesson about the power of the law and the spirit of the fast.
As members of the Church, we feel a kinship to those who suffer in any way. As sons and daughters of God, we are all brothers and sisters. We heed an Old Testament admonition: 'Thou shalt open thine hand wide unto thy brother, to thy poor, and to thy needy.' "
And again in April 2020:
"As followers of Jesus Christ, living in a day when the COVID-19 pandemic has put the whole world in commotion, let us not just talk of Christ or preach of Christ or employ a symbol representing Christ.
Let us put our faith in the Lord Jesus Christ into action!
As you know, members of the Church observe the law of the fast one day each month.
The doctrine of fasting is ancient. It has been practiced by biblical heroes from the earliest days. Moses, David, Ezra, Nehemiah, Esther, Isaiah, Daniel, Joel, and many others fasted and preached of fasting. Through Isaiah's writings, the Lord said: 'Is not this the fast that I have chosen? to loose the bands of wickedness, to undo the heavy burdens, and to let the oppressed go free?'
The Apostle Paul admonished Saints in Corinth to 'give yourselves to fasting and prayer.' The Savior Himself declared that certain things go 'not out but by prayer and fasting.' "
…
"In my video message, I invited all to join in fasting on Sunday, March 29, 2020. Many of you may have seen the video and joined in the fast. Some may have not. Now we still need help from heaven.
So tonight, my dear brothers and sisters, in the spirit of the sons of Mosiah, who gave themselves to much fasting and prayer, and as part of our April 2020 general conference, I am calling for another worldwide fast. For all whose health may permit, let us fast, pray, and unite our faith once again. Let us prayerfully plead for relief from this global pandemic.
I invite all, including those not of our faith, to fast and pray on Good Friday, April 10, that the present pandemic may be controlled, caregivers protected, the economy strengthened, and life normalized.
How do we fast? Two meals or a period of 24 hours is customary. But you decide what would constitute a sacrifice for you, as you remember the supreme sacrifice the Savior made for you. Let us unite in pleading for healing throughout the world."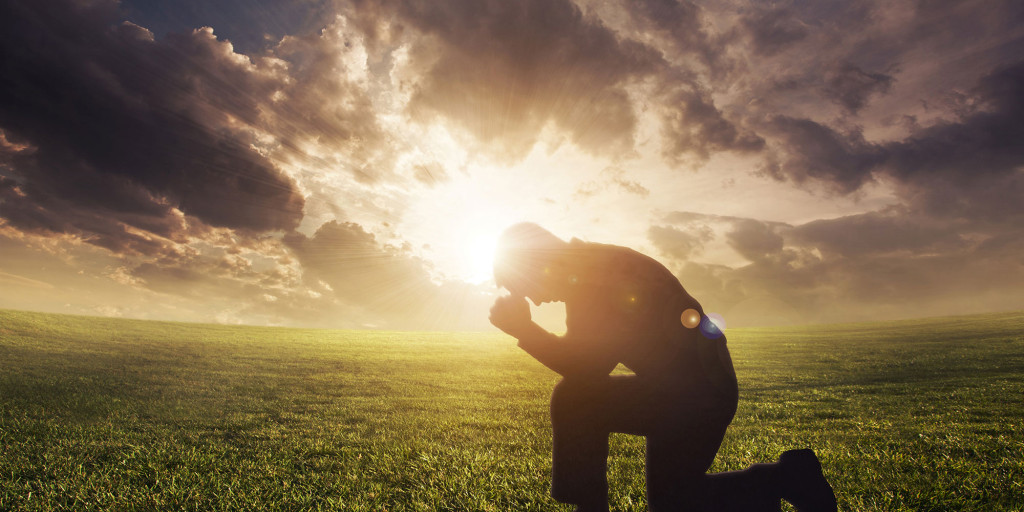 3. His original invitation in 2018:
"Our Savior and Redeemer, Jesus Christ, will perform some of His mightiest works between now and when He comes again. We will see miraculous indications that God the Father and His Son, Jesus Christ, preside over this Church in majesty and glory. But in coming days, it will not be possible to survive spiritually without the guiding, directing, comforting, and constant influence of the Holy Ghost.
My beloved brothers and sisters, I plead with you to increase your spiritual capacity to receive revelation. .Choose to do the spiritual work required to enjoy the gift of the Holy Ghost and hear the voice of the Spirit more frequently and more clearly."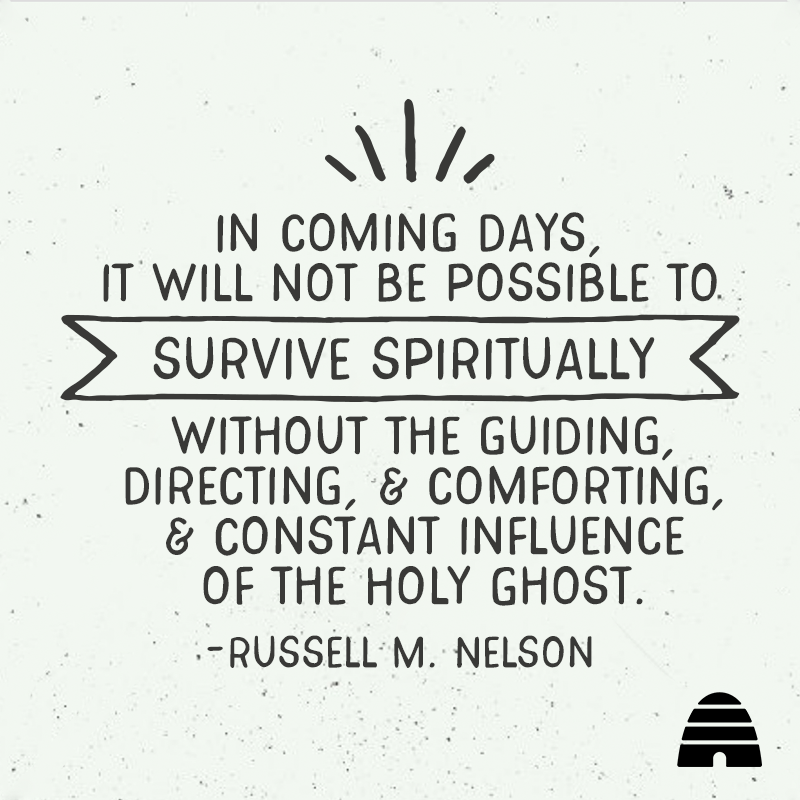 And again in April 2020:
"We..hear Him more clearly as we refine our ability to recognize the whisperings of the Holy Ghost. It has never been more imperative to know how the Spirit speaks to you than right now. In the Godhead, the Holy Ghost is the messenger. He will bring thoughts to your mind which the Father and Son want you to receive. He is the Comforter. He will bring a feeling of peace to your heart. He testifies of truth and will confirm what is true as you hear and read the word of the Lord. I renew my plea for you to do whatever it takes to increase your spiritual capacity to receive personal revelation.
Doing so will help you know how to move ahead with your life, what to do during times of crisis, and how to discern and avoid the temptations and the deceptions of the adversary."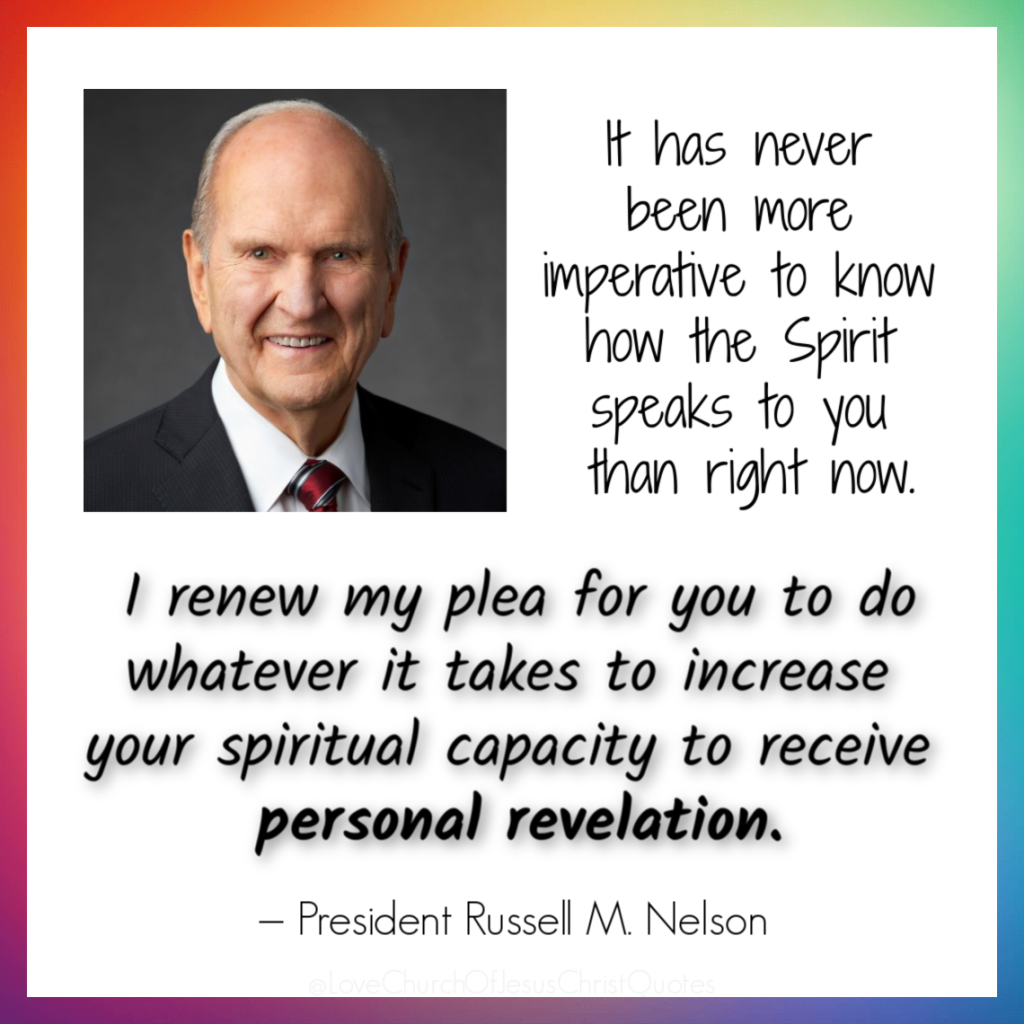 4. April 2020: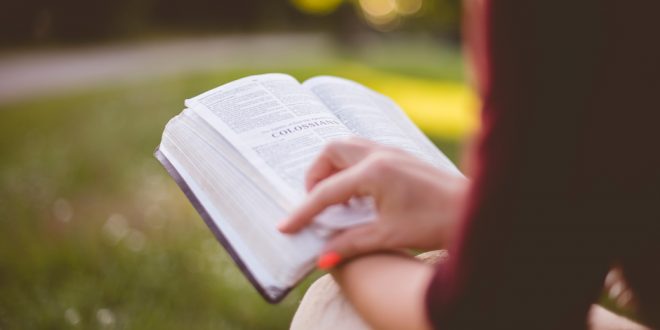 "Daily immersion in the word of God is crucial for spiritual survival, especially in these days of increasing upheaval. As we feast on the words of Christ daily, the words of Christ will tell us how to respond to difficulties we never thought we would face."
Previous invitations:
"I promise that as you prayerfully study the Book of Mormon every day, you will make better decisions—every day. I promise that as you ponder what you study, the windows of heaven will open, and you will receive answers to your own questions and direction for your own life. I promise that as you daily immerse yourself in the Book of Mormon, you can be immunized against the evils of the day, even the gripping plague of pornography and other mind-numbing addictions. . .We need to feel, deep in 'the inmost part' of our hearts, that the Book of Mormon is unequivocally the word of God. We must feel it so deeply that we would never want to live even one day without it."
. . .
"While worshipping in the temple is presently not possible, I invite you to increase your participation in family history, including family history research and indexing. I promise that as you increase your time in temple and family history work, you will increase and improve your ability to hear Him."
. . .
"Nothing opens the heavens quite like the combination of increased purity, exact obedience, earnest seeking, daily feasting on the words of Christ in the Book of Mormon, and regular time committed to temple and family history work."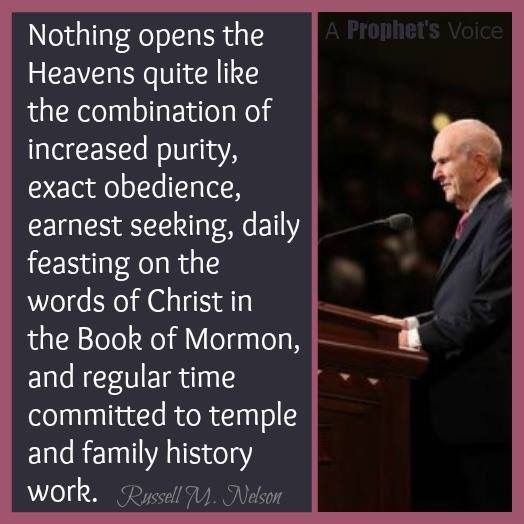 5. His plea in October 2018: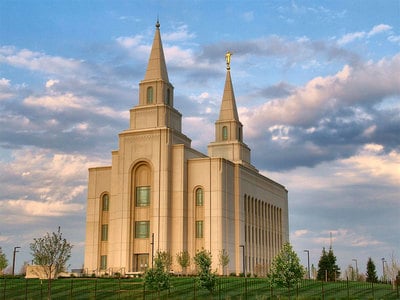 "My dear brothers and sisters, the assaults of the adversary are increasing exponentially, in intensity and in variety. Our need to be in the temple on a regular basis has never been greater. I plead with you to take a prayerful look at how you spend your time. Invest time in your future and in that of your family. If you have reasonable access to a temple, I urge you to find a way to make an appointment regularly with the Lord—to be in His holy house—then keep that appointment with exactness and joy. I promise you that the Lord will bring the miracles He knows you need as you make sacrifices to serve and worship in His temples."
And again in April 2020:
"When these temporary COVID-19 restrictions are lifted, please schedule regular time to worship and serve in the temple. Every minute of that time will bless you and your family in ways nothing else can. Take time to ponder what you hear and feel when you are there. Ask the Lord to teach you how to open the heavens to bless your life and the lives of those you love and serve."
6. In His main conference address, "Hear Him", President Nelson said the following:
"Repeatedly, past prophets have declared 'great and marvelous things unto the people, which they did not believe.' It is no different in our day. Through the years, great and marvelous things have been heard from dedicated pulpits across the earth. Yet most people do not embrace these truths—either because they do not know where to look for them or because they are listening to those who do not have the whole truth or because they have rejected truth in favor of worldly pursuits."
. . .
"The very first word in the Doctrine and Covenants is hearken. It means 'to listen with the intent to obey.' To hearken means to 'hear Him'—to hear what the Savior says and then to heed His counsel. In those two words—'Hear Him'—God gives us the pattern for success, happiness, and joy in this life. We are to hear the words of the Lord, hearken to them, and heed what He has told us!"
. . .
"What will happen as you more intentionally hear, hearken, and heed what the Savior has said and what He is saying now through His prophets? I promise that you will be blessed with additional power to deal with temptation, struggles, and weakness. I promise miracles in your marriage, family relationships, and daily work. And I promise that your capacity to feel joy will increase even if turbulence increases in your life."
Wow, those are some pretty cool promises! And as I was going through these quotes again, it was cool to see incredible promises attached to each these invitations! I hope we can all commit to better hearkening to the words of the Lord and the inspired invitations of His prophet, so that we'll be able to see the realization of all these blessings in our lives. As it says in Doctrine & Covenants 82:10: "I, the Lord, am bound when ye do what I say; but when ye do not what I say, ye have no promise."  Let's go claim these promises!