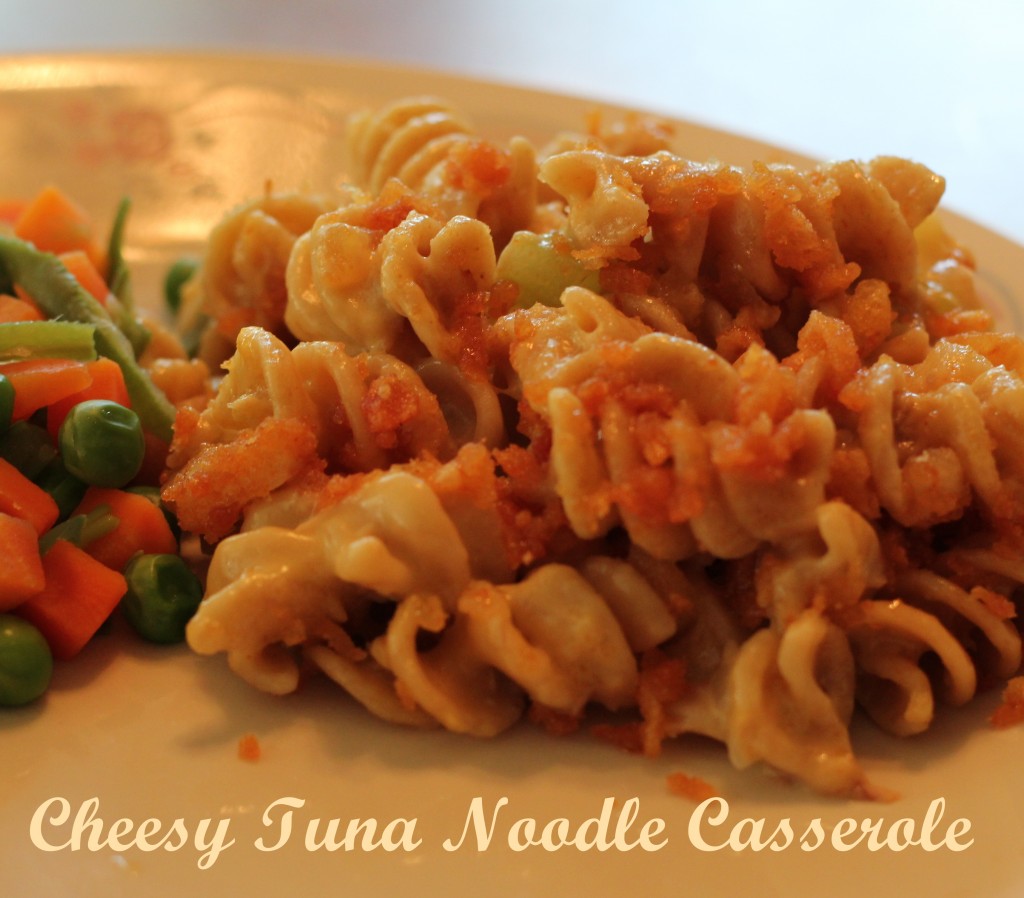 This is probably one of my favorite dishes. It's so cheesy and good. I could probably eat it everyday. Here's the recipe!
Ingredients for Cheesy Tuna Noodle Casserole:
6 ounces of wide egg noodles (In the picture I used whole wheat noodles, but egg noodles work the best!)
1 cup finely chopped celery
1/4 cup chopped onion
1 can tuna, drained
1/2 cup Mayonnaise (I've also used plain yogurt instead, or half mayo half yogurt, and it turns out fine)
1 cup shredded cheddar cheese 🙂
1 can cream of chicken soup (Campbell's is best!)
1/2 cup milk
Topping:
1 cup potato chips (you can also use fried hash browns or tator tots, like I did in the picture. Chips are easiest though!)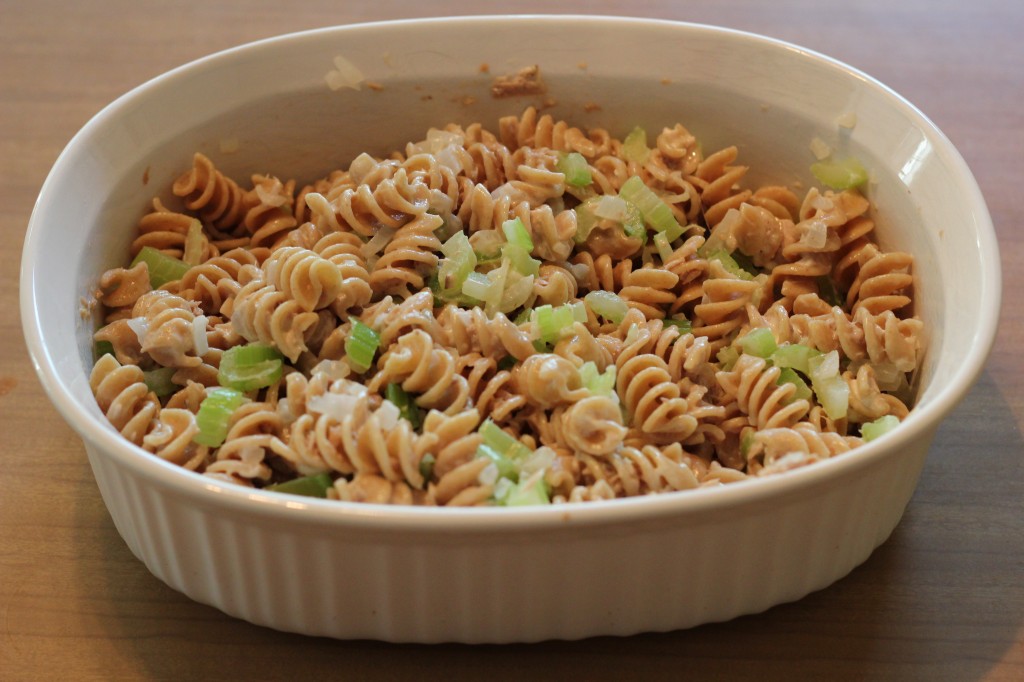 Directions:
Cook the noodles. Set aside. Also cook the celery and onion in some boiling water until they are as soft as you like them (at least 5 minutes).
Then mix the noodles, mayo, and tuna together in a casserole dish. Mix in celery and onions.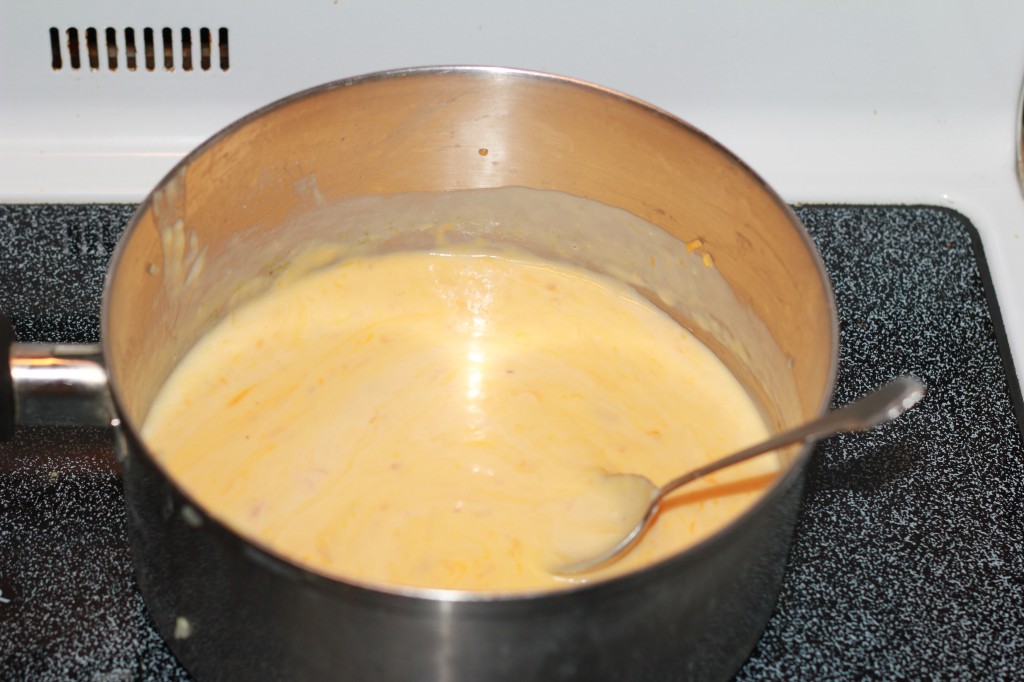 Now combine the cheese, milk, and cream of chicken soup in a pan and heat over medium heat, stirring occasionally,  until cheese is all melted.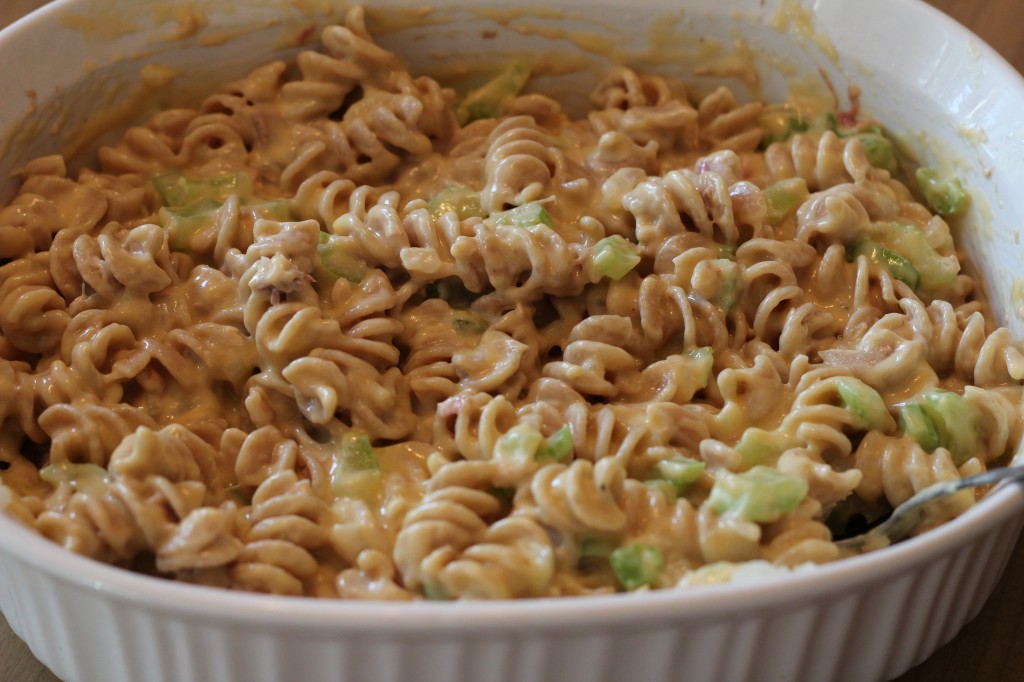 Stir in cheesy soup mixture and mix with the noodle mixture.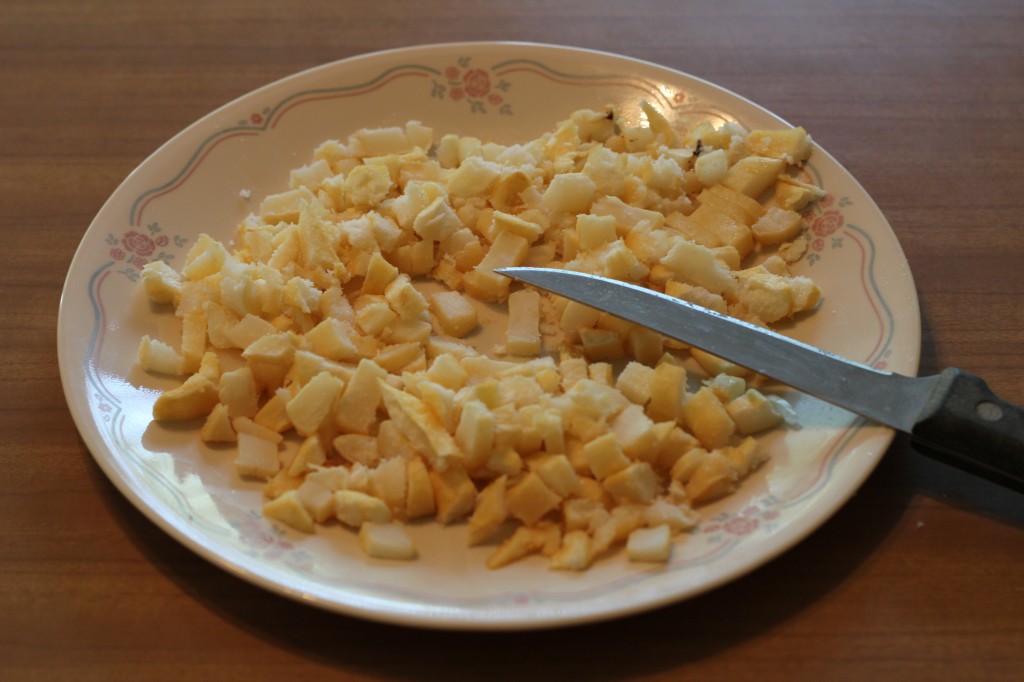 Top with crushed potato chips. Don't leave these out – this is what makes it so good! Or you can fry up some hash browns in a couple tablespoons of oil. In the picture above, I used frozen french fries, cut up, and fried them. It was very yummy.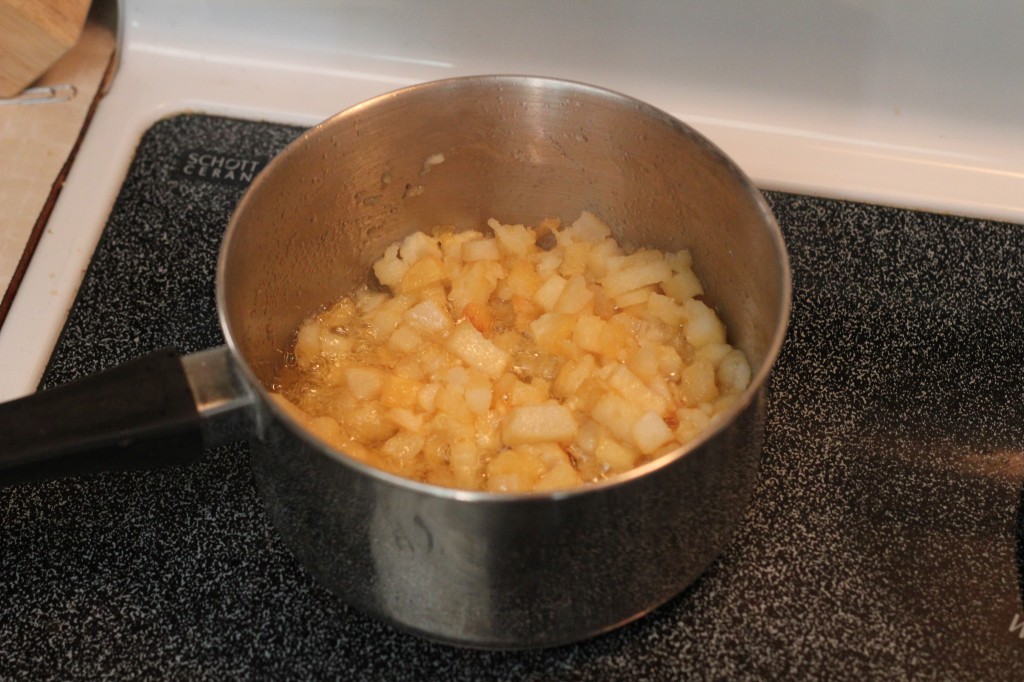 I recommend frying them until they get crispy and brown (it seems like it took around 10 minutes but could have been longer or shorter).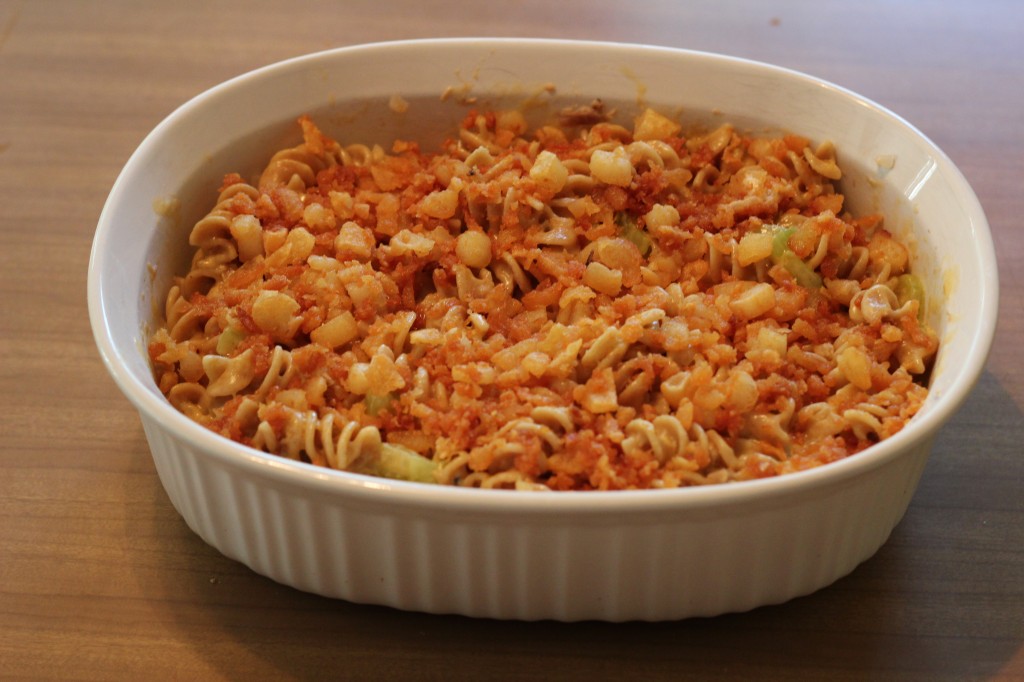 Then spread it over the casserole as a yummy crispy topping. I usually then microwave it uncovered for at least 3 or so minutes to make sure it's all hot.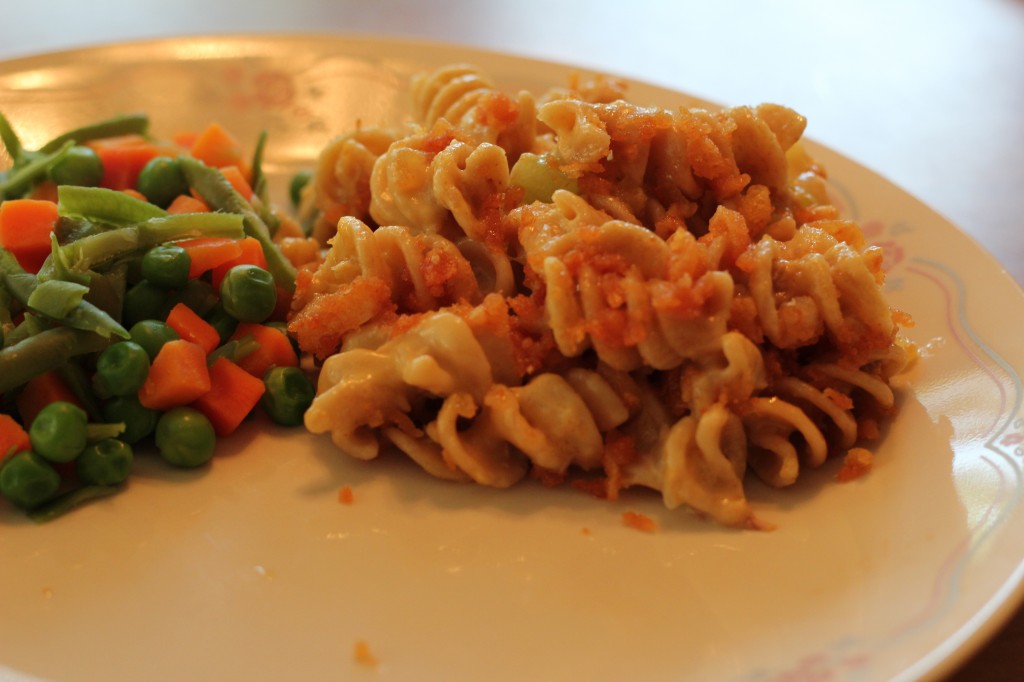 Then scoop it out and enjoy! I usually try to serve it with sliced tomatoes and cooked peas or other type of vegetables. Hope you like it! Tuna noodle casserole is one of my favorite things to make.