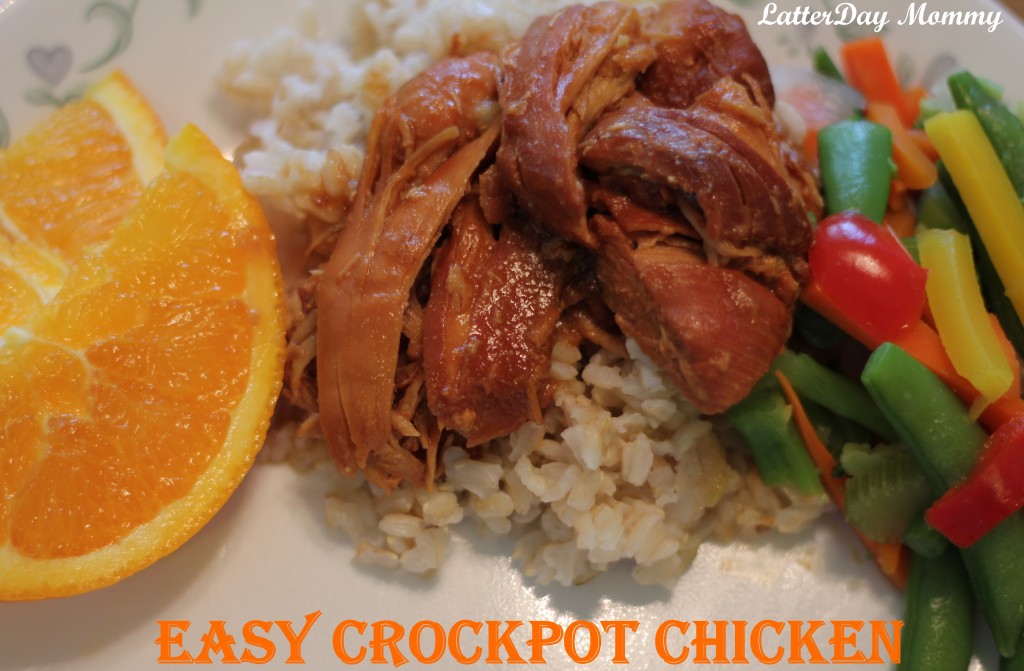 I found this recipe for easy crockpot "Honey Garlic Chicken" on Pinterest and thought I'd try it out since it didn't require me to go out of my way to buy any obscure ingredients that I don't normally have. Just Soy sauce, honey, and ketchup! It turned out great. Here's the recipe:
3 boneless, skinless chicken breasts
3 garlic cloves, chopped (Too much work – I just used the equivalent of garlic powder and it turned out great)
1/2 c soy sauce
1/2 c ketchup
1/2 c honey
pinch of basil (The original recipe calls for fresh basil but I don't think it's necessary. Dried basil does the trick!)
salt & pepper to taste
Cornstarch (Original recipe says to simmer the sauce separately in the crockpot until it gets thicker, but I prefer just adding cornstarch)
Slice each of your chicken breasts in half and place in bottom of crock pot. Mix garlic, soy sauce, ketchup, honey, basil, salt, and pepper in a bowl and stir.
Cook on low for 4-6 hours or on high for 2-3 hours (Cooking times may vary – I'd check it after a couple of hours and then adjust the cooking time/temp – I used frozen chicken and put it on high for a few hours and it seemed like it cooked just as fast almost as non-frozen chicken). Remove chicken from crock pot and transfer to covered plate to keep warm. Add a little cornstarch to the sauce in the pot until thickened to desired consistency. Put the chicken back in and serve over rice. It has a taste somewhat similar to BBQ chicken. Very tasty! I'll be making this one again since it's super duper easy and calls for ingredients I usually already have on hand.