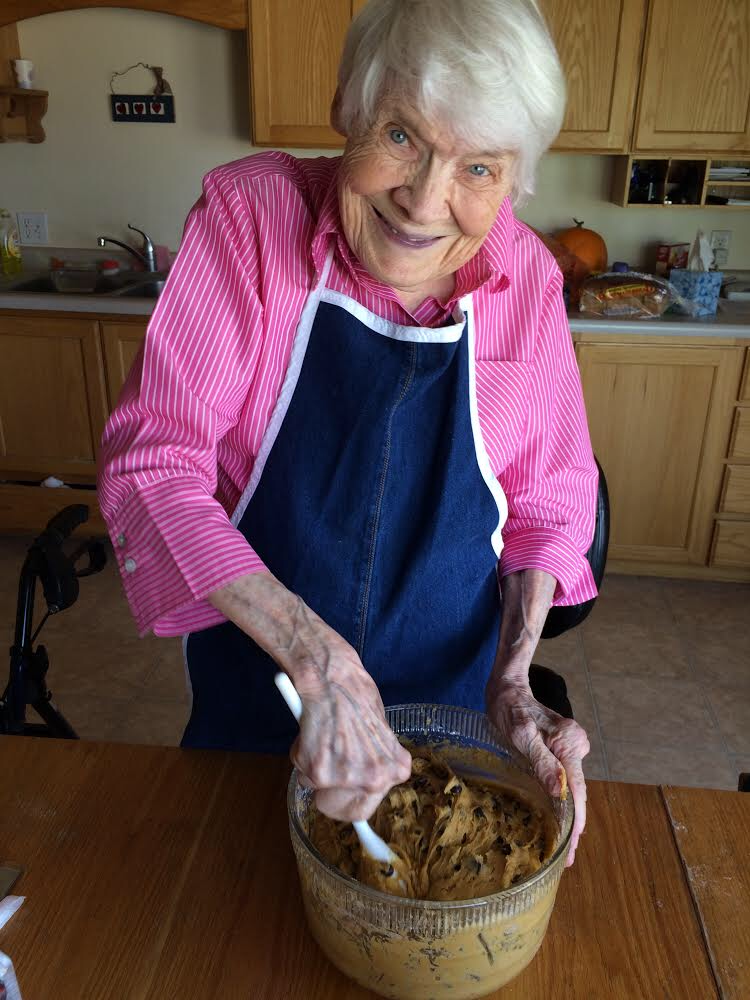 My Grandma used to make these all the time, and so this is a very nostalgic recipe for me. She was always very health conscious, and so these are her "healthy" cookies, made with whole wheat flour, applesauce, and nuts. What a lady!
Grandma Gunn's Super Healthy Whole Wheat Applesauce Raisin Cookies:
Two days before, soak raisins in diluted frozen grape juice. Keep in refrigerator. (Grape juice can be used over and over, if kept frozen in between making cookies).
Cream together:
1 cup butter
2 1/2 cups brown sugar (packed)
Add and mix together with the above:
3 large eggs, beaten
3 cups applesauce
Measure in separate bowl, stir thoroughly, then add to the above and mix well:
1 cup white wheat flour
1 teaspoon baking soda
1 teaspoon baking powder
5 teaspoons cinnamon
2 teaspoons allspice
1 1/2 teaspoons salt
Now add and mix with the above:
2 cups white wheat flour
2 cups quick Quaker oats, ground fine in blender
Stir in: 
3 cups chopped walnuts or pecans
3 cups raisins
Drop on greased cookie sheet, 1 rounded tablespoon each. Check oven temperature: 350 degrees, 14-15 minutes. 325 degrees, about 20 minutes.
Top with cream cheese frosting.
(Can mix in Bosch Machine using lighter beaters at first, then heavier dough attachments when blending in raisins and nuts).