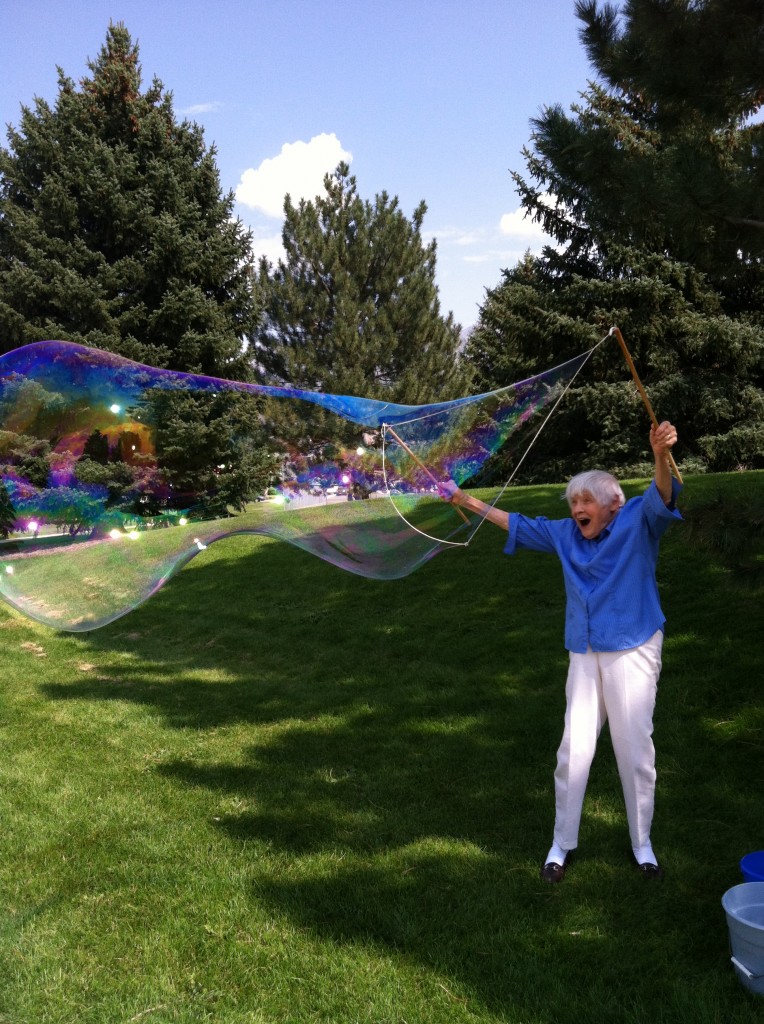 This is one of my favorite summer time activities! My mom introduced me to it, and we've done it at family reunions, parties, etc.! It's so fun and simple that I have to share. The lovely lady in the pictures is my 92 year old grandma 🙂
How to Make the Bubble Solution:
What you'll need:
12 cups Purified Water
(We don't always use the purified water, so regular water is fine and cheaper. However, the purified water probably works a little better because it doesn't have the extra minerals in it that might affect how well the bubbles work).
5 cups Unscented and uncolored Dish washing Soap (such as Dawn)
1/2 cup Corn Syrup
(The original recipe calls for 1/2 cup glycerin, but corn syrup works just as well and it is much cheaper!)
Directions:
Pour the water into a bucket or clean plastic container. Pour the dishwashing soap into the water. Then mix it gently with a wooden spoon. Pour the corn syrup in. Mix gently again. (You don't want ANY bubbles). Also I understand that if you let the bubble solution sit overnight it will work even better.
I don't have any pictures yet for how to make the wooden wands, but you can see step-by-step instructions for that 
here
.
I'll try to update this post to include all the instructions when I get the chance!
As you can see, these are so much fun for any age! 🙂