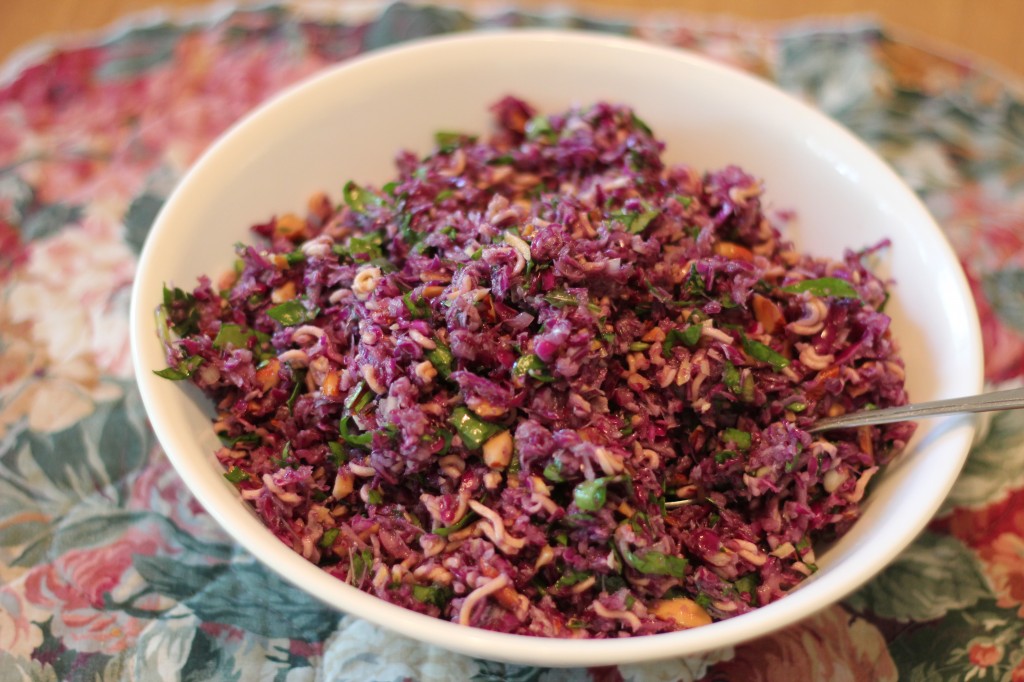 I was looking on Pinterest looking for red cabbage recipes, and couldn't find much. We've been trying to eat way healthier lately, in an attempt to move towards a more 'whole foods plant based' type of diet. Mostly I'm just trying to cook with more veggies and less meat. Last week I got a head of red cabbage because it's packed with way more nutrients than regular green cabbage. The only thing was, I didn't know what to do with it. We've been eating it on top of green salad, but I could only handle a little bit at a time because it has a pretty distinct (bitter?) taste. I hadn't ever really used red cabbage much before, so I didn't really know how else to eat it other than on salad.
So what can else can you do with red cabbage?
As I was trying to think of things to do with red cabbage. I had the idea to try making my mom's Chinese noodle salad with it. I was afraid it would have too much of a pungent flavor, but the dressing actually covered it up pretty well, and I liked it. I think it helps a lot to add soy sauce too 🙂
So anyways, I think this is a good way to use red cabbage in a way that makes the taste more bearable. 🙂 It's also a great way to make original Chinese noodle salad recipe WAY more nutritious. Alex said he thinks it would also be good to try the salad as a filling for egg rolls, so we might give that a go one of these times.
Purple Chinese Chicken Salad – with Red Cabbage
Ingredients:
1 VERY small head red cabbage
1 package Ramen noodles (with chicken seasoning packet)
1/3 can (15 oz.) chicken (or more if desired)
2 green onions, chopped
1/3 cup chopped almonds
Chopped spinach or other greens (1/3+ cup)
Dressing:
1 1/2 Tablespoons olive oil
1/2 Tablespoon sugar
1/2 Tablespoon vinegar
1/2 chicken seasoning packet (from Ramen)
Soy sauce to taste
Directions: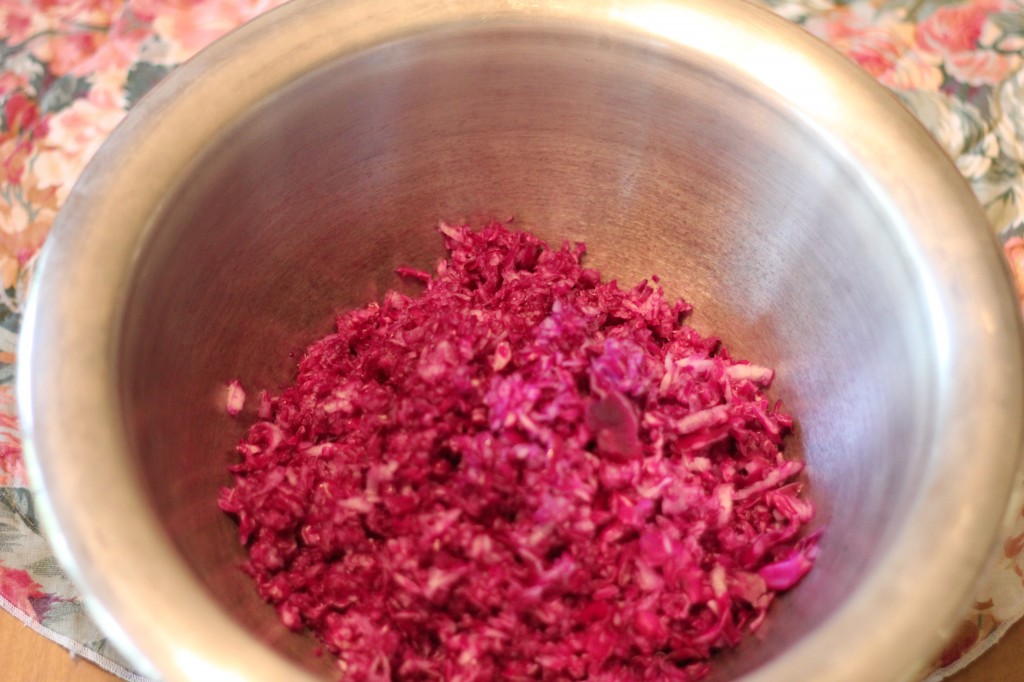 1. First, shred the cabbage.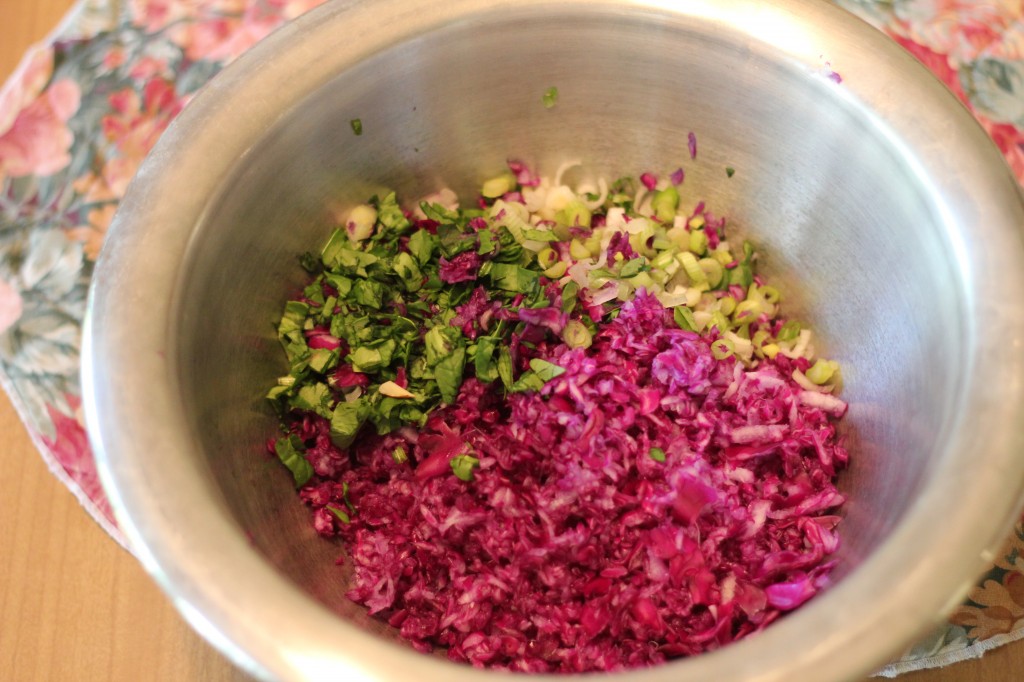 2. Combine cabbage, green onions, and spinach in a large bowl.
3. Spread out the sliced almonds and dry Ramen noodles (crushed/broken up in tiny pieces) on a cookie sheet and broil until golden brown. Set chicken seasoning packet aside to use with dressing.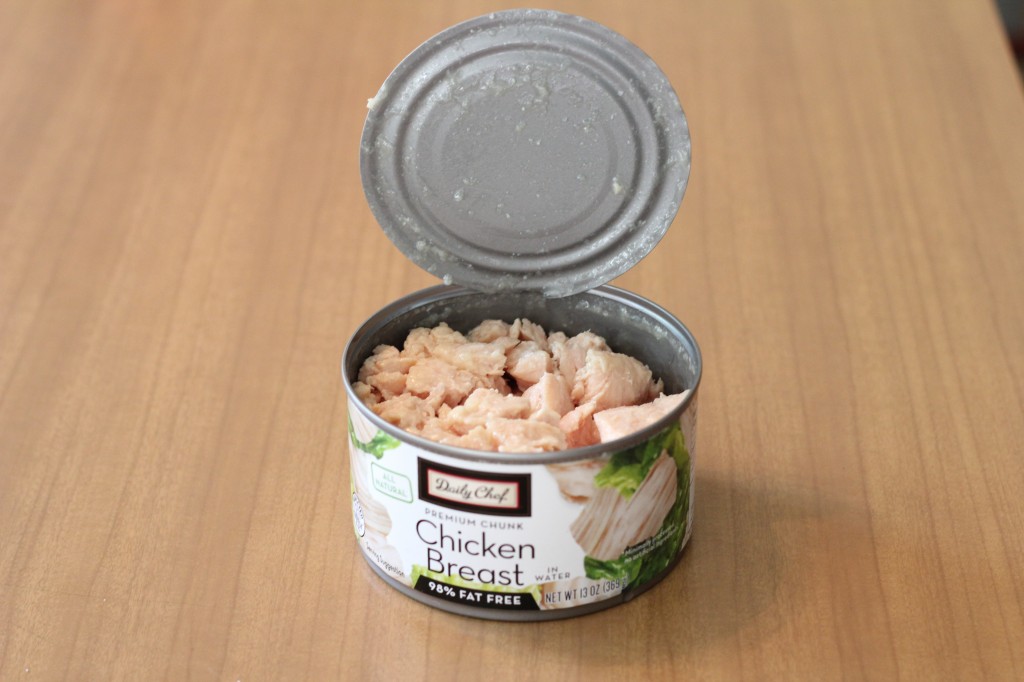 4. Mix in the almonds, Ramen, and chicken.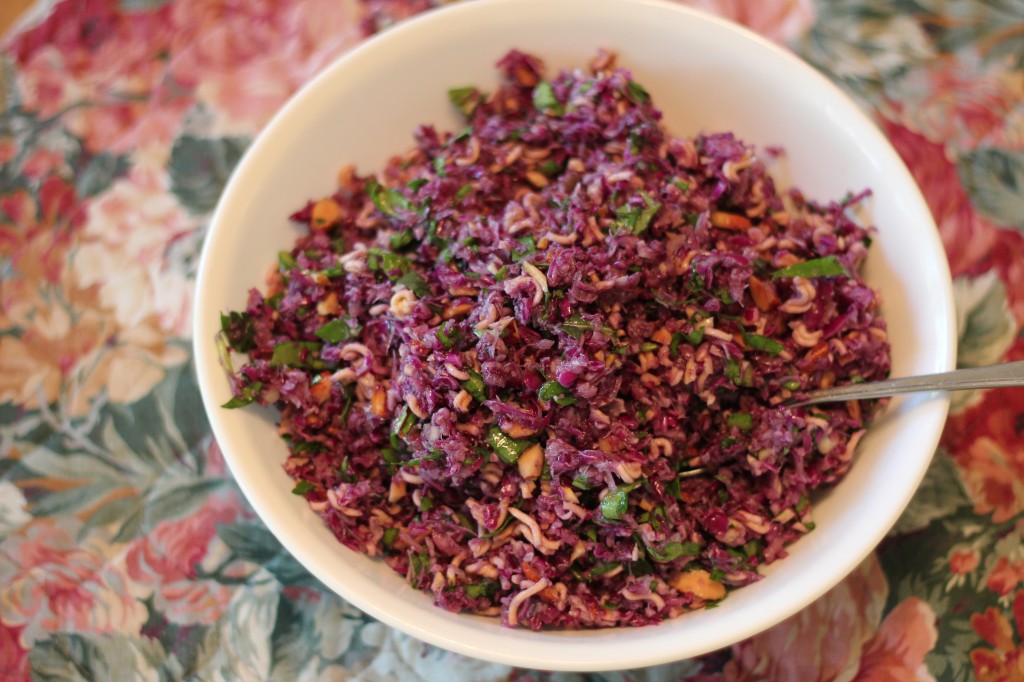 5. Add dressing, mix well, and eat up!
I love how colorful it is!