Here's the recipe for lumpia, my all-time favorite Filipino food.  If you're an egg roll lover, you have to try lumpia! I learned how to make lumpia while serving my mission in the Philippines. Once I tasted it, I was converted. They are a lot crisper than egg rolls because lumpia wrappers are a lot thinner than egg roll wrappers. You can make it lots of different ways – most of the time it's made with mostly meat (usually pork). I prefer making it with more veggies, so I just experimented with the ingredients and came up with this recipe. I hope you enjoy it. Everyone I've made it for has loved it.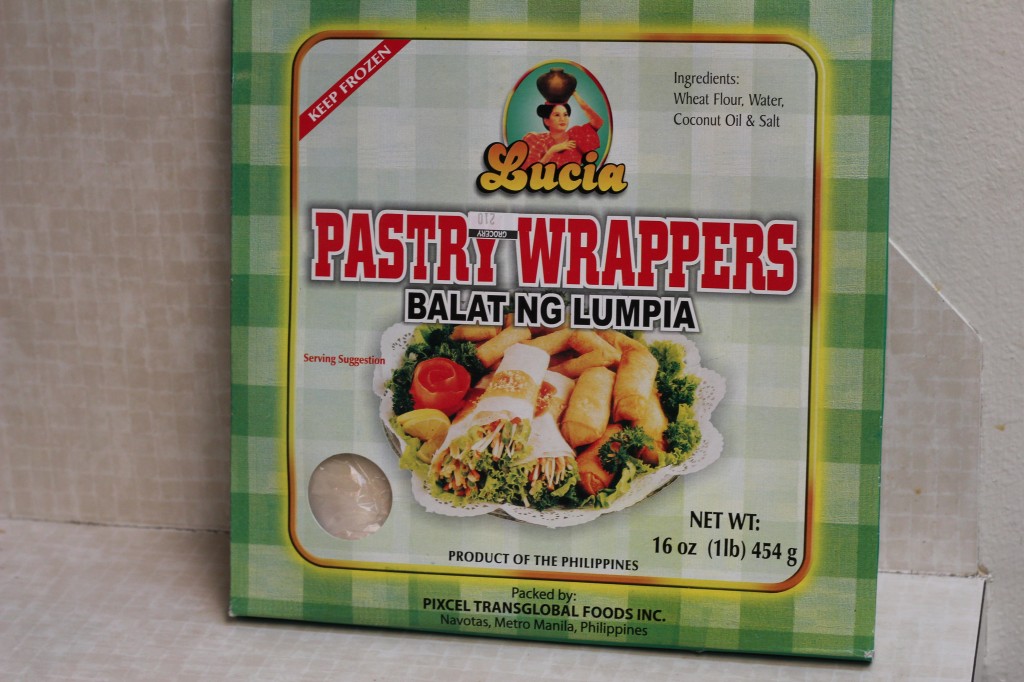 First, you need to go get lumpia wrappers. They are available at many Asian markets, usually in the frozen section. Make sure you don't get spring roll wrappers – they are not the same thing! The package should say something like "Balat ng Lumpia."
Let them thaw in the fridge. Once completely thawed, you should be able to pull them apart. Be careful not to rip them as you peel them apart. They come stuck together in very thin sheets, but if you are gentle and work at it for a bit, they should all peel apart nicely.
Recipe for the lumpia filling:
1 small-ish onion, chopped
1 cup carrots, shredded
1 package coleslaw 
1/2 lb. shredded chicken (or 1 can tuna)
1 egg
Garlic powder to taste (I'd do at least 3-4 cloves worth)
Salt & Pepper to taste (1/2 teaspoon-ish)
Mix all ingredients together. I find that if you mix it up a few hours beforehand and let it sit covered in the fridge, the flavors seem to soak in better (but I don't always do that).
You can also use Lumpia Shanghai seasoning mix in place of the  garlic, salt, and pepper. It's available at many Filipino stores. I like to use the seasoning packet when I can but the other does the trick too. The amounts are approximate – it doesn't matter too much if you put a little more or less of something than it says here. I often vary the amount of carrots/onions/chicken that I put in, and I can't tell the difference.
How to wrap the lumpia: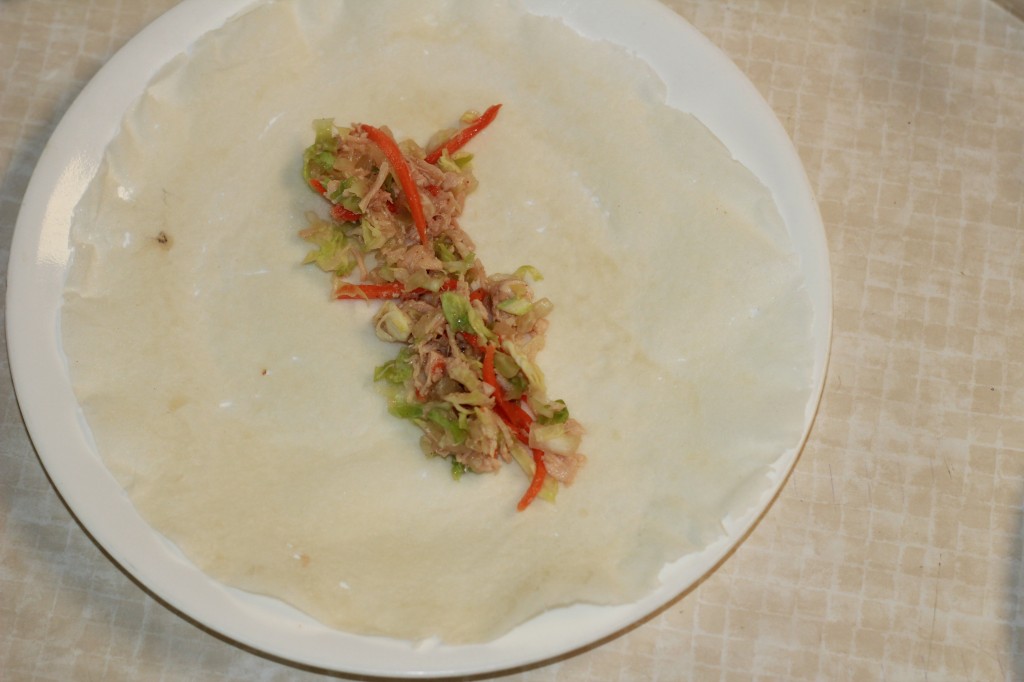 Put a line of filling down the middle. You can put as much or as little as you want – whatever you prefer. (true Filipino lumpia is pretty small & tightly wrapped, but I sometimes like making mine a little bigger). Fold the edges over perpendicular to the line of filling on both sides (this will keep the filling from falling out). Then fold one side over and roll it as tight as you can without ripping it.  After wrapping it, dip your fingers in a cup of water to wet down the edges and seal them together. Hopefully that makes sense. I'll try get a couple more photos next time I make it in order to show it more step-by-step.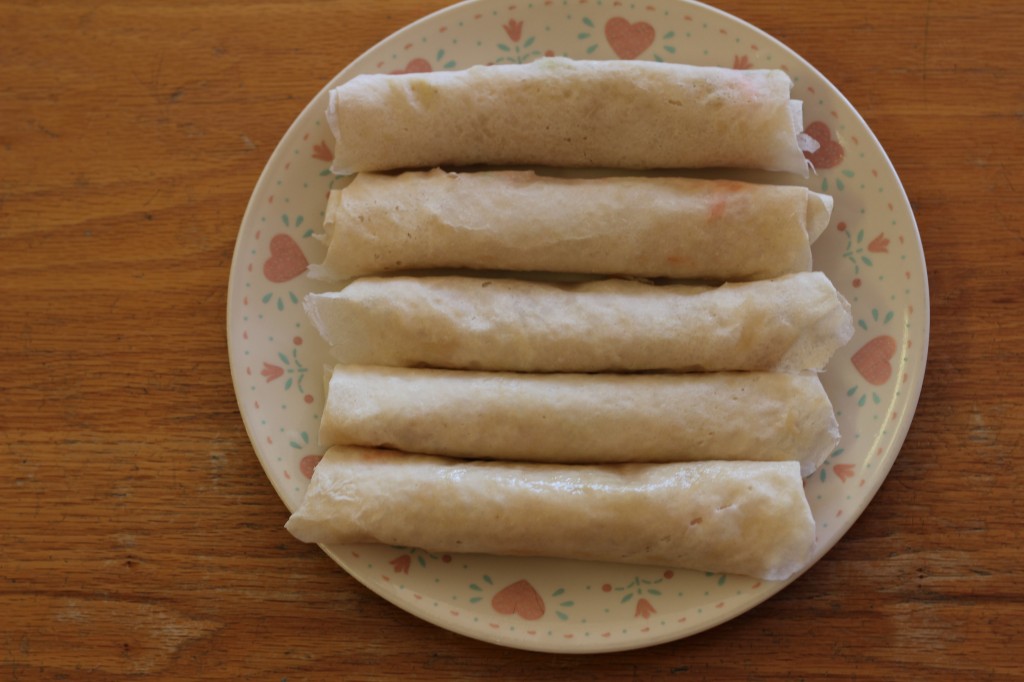 Make sure your oil is hot enough (click here for a cool trick for this!) and deep-fry. Serve with rice along with other Filipino dishes or as a party finger food. Dip in soy sauce or sweet & sour sauce. Enjoy!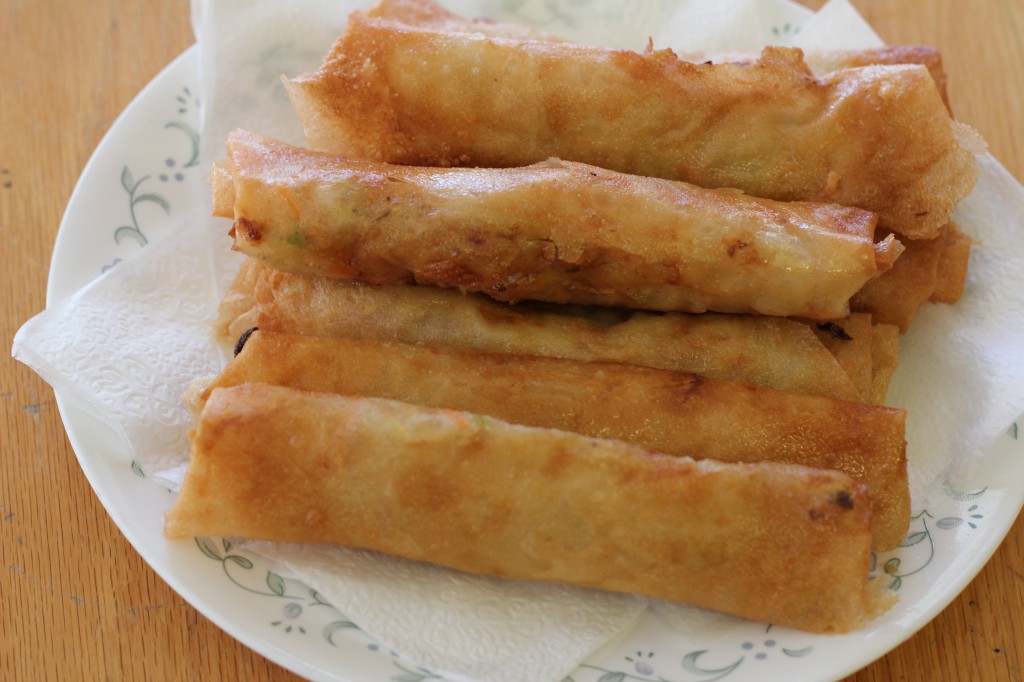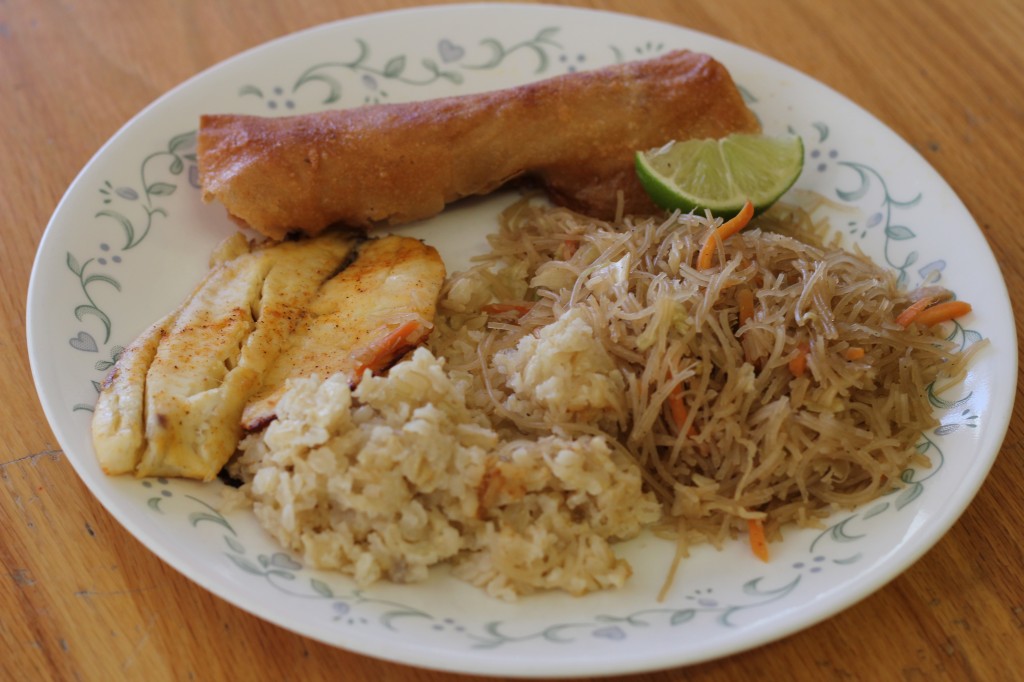 If you have any questions, feel free to leave a comment!
Check back later – I plan to post how to make Filipino banana lumpia for dessert, as well as other yummy Filipino recipes!