"And at that day [the second coming], when I shall come in my glory,
shall the parable be fulfilled which I spake concerning the ten virgins.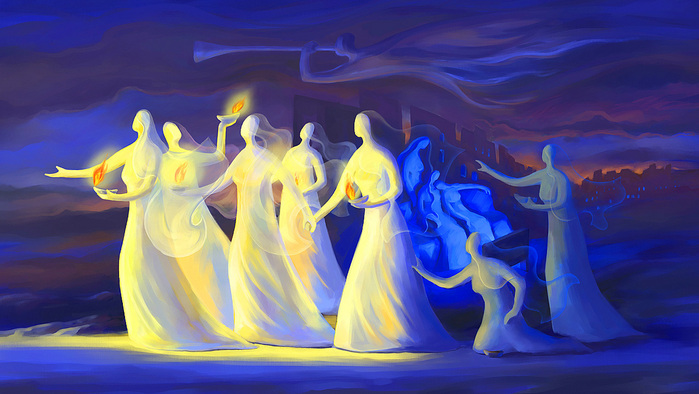 For they that are wise and have received the truth,
and have taken the Holy Spirit for their guide,
and have not been deceived—verily I say unto you,
they shall not be hewn down and cast into the fire, but shall abide the day."

(Doctrine & Covenants 45:56-57)
I love this painting of the parable of the ten virgins because of the bright contrast between light and darkness. I love D&C 45:57 because it sheds additional light on the symbolism of this parable.
What does the oil represent? I think it represents the Holy Ghost. The wise virgins were able to see their way in the dark because of their lamps. The scripture above indicates that they had the Holy Spirit as their guide. So clearly, having oil in our lamps is equivalent to having the Holy Ghost with us. If we live worthy of the gift of the Holy Ghost, we cannot go astray. It will be our constant companion and guide. It will be what cleanses us from our sins and makes us worthy to "abide the day."
I love what Elder James E. Faust said:
"I believe that the Spirit of the Holy Ghost is the surest guardian of our inner peace. It can be more mind-expanding and can make us have a better sense of well-being than any chemical or other earthly substance. This Comforter can be with us as we seek to improve. It can function as a source of revelation to warn us of impending danger and also help to keep us from making mistakes. It can enhance our natural senses so that we can see more clearly, hear more keenly, and remember what we should remember. It helps us to be happy."
When Christ comes again, we will not be able to borrow this light from others. We will have had to ingrain its influence in our own lives. If we neglected to do so, we will be left without a guide in the dark. But if we have oil in our lamps, we will be able to see clearly and abide the day.