Feeling like Mexican? I recommend trying out Emmanuel's Fresh Mexican Grill in Provo. It's become my favorite restaurant recently! I'm very impressed. The food is great and the price is right.
Note: I'm going to try to make this review as detailed as possible to hopefully be of help to any first-time goers who might want some recommendations before ordering. Ready? Let's talk about food 🙂
Why I like Emmanuel's:
1. Best chimichangas ever!!!
I've never gotten the regular chimichanga (pictured below), but the kids meal one was great.  I did pay a dollar more for meat (instead of just bean & cheese, which is the default for kid's meal) but looking back I think bean & cheese would have been just fine too. It comes with one side – either beans or rice. I also got it smothered with chile verde sauce ($1.25 extra), which was very good and not too spicy.  I really liked it. Next time I might try smothering it in enchilada sauce. Or I might just try it plain. It comes with sour cream! No avocado with the kids meal, but that's okay.
One note: So my mom got the regular sized bean & cheese chimichanga, which ended up being way too much for her- she couldn't finish it. She liked it, but it was a little too much beans for her with also having beans on the side (she didn't eat the ones on the side). Next time she would get the kid's meal size and probably get chicken inside it.
One thing to be aware of is that the regular chimichanga apparently is not exactly as shown in the picture below. According to my mom, there's only one slice of avocado, not as many tomatoes as shown, no olives, but it did come with more lettuce. (Got this image from their Facebook page). But nevertheless, their chimichangas are fabulous!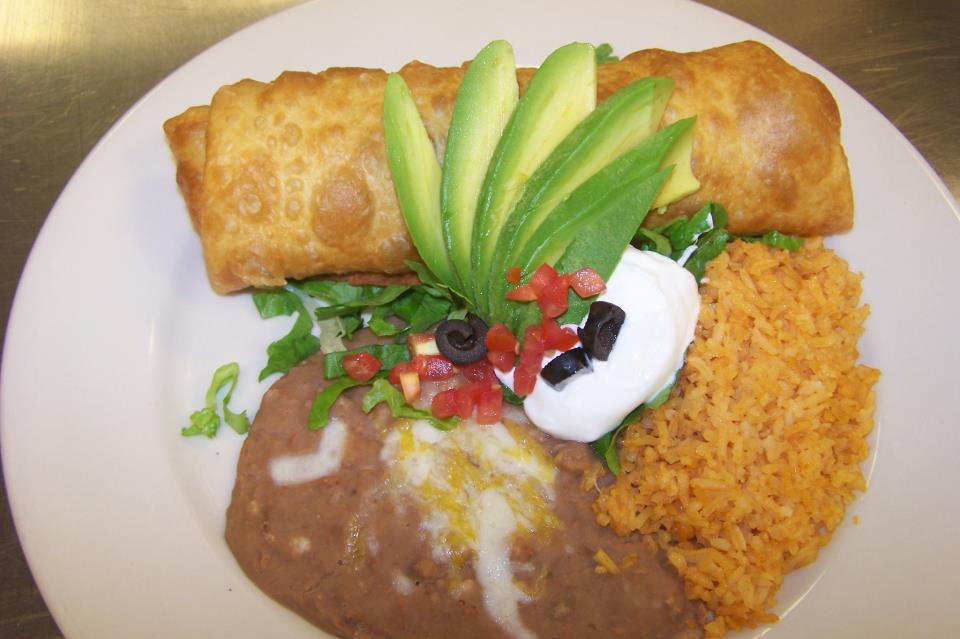 2. The portions are HUGE!
I got a kid's meal chimichanga (only $5.50) and it was plenty. I bet the regular one could be split between two people, unless you're like super duper hungry and can eat a lot. My husband got the special (one chicken burrito, and a few flautas) and he could hardly finish it. Alex and I like to split a meal when going out to eat to save money (that way we can go out to eat twice as often!). We didn't this time because it was for my birthday, but we'll definitely be doing that next time because it's plenty of food for two!
3. Salsa bar
They have a help-yourself bar with salsa, peppers, onions, chopped cilantro, limes, etc. and a couple of sauces to choose from: some sort of tomatillo green sauce (kinda spicy, but very very good!) and an orange sauce (quite spicy and kind of different tasting- I wasn't really a big fan of it). The salsa is quite spicy too, but good. I really like that they have limes and cilantro! Those are my favorite.
4. To-die-for Nachos.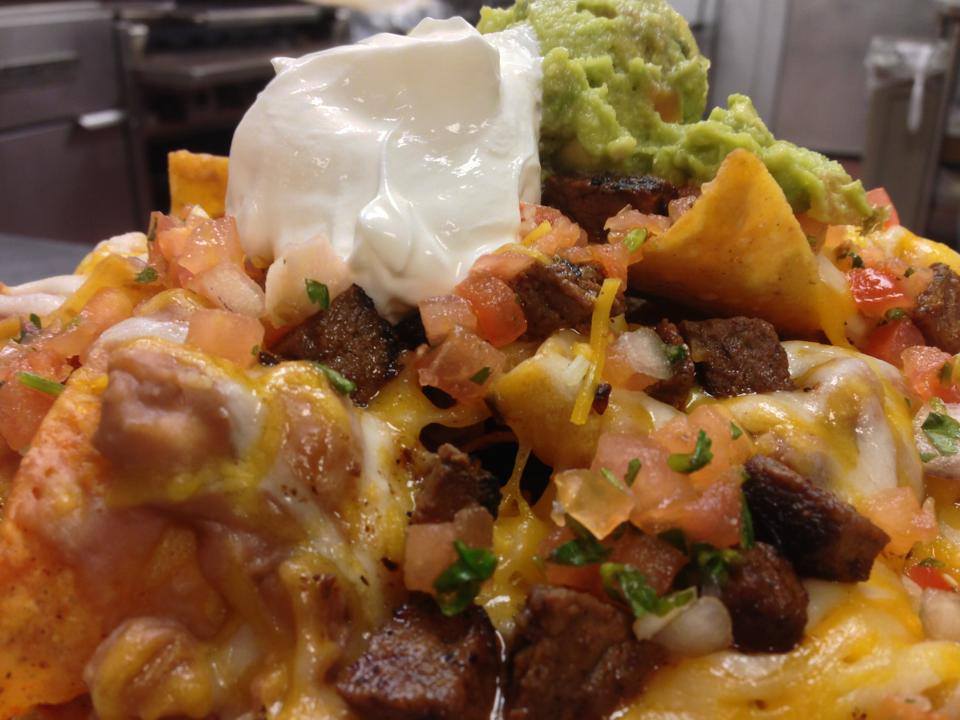 OK so I've never personally gotten the nachos, but this will definitely be the next thing I try. I've seen them and they look absolutely wonderful. My dad ordered them and he loved them!  He said they were the best nachos he'd ever had. Apparently at Emmanuel's they make their own chips (seasoned too!) and the nachos come with yummy steak bits (if you get carne asada), refried beans, cheese, pico de gallo, sour cream and guacamole. But these aren't just your old regular throw-it-all-on-a-plate-and-call-it-nachos nachos. It's more than a bunch of chips with toppings piled on top – the yumminess is all layered throughout the whole thing, making each bite a delicious mouthful! Yeah. That's how I like to make my nachos at home. You can tell I'm writing this while I'm hungry. In fact, I'm sorely tempted to go over there right now and get these nachos! If only I had a car…
My sister Lisa also tried them. She said they were really good. She personally would have preferred if they had more fresh stuff on it (like lettuce and tomatoes) on top, which I can totally understand because I like having more fresh stuff on my Mexican food too. In fact, sometimes I even chop up my own extra lettuce and tomatoes and bring it with me when I go to Cafe Rio, so I can eat my enchiladas exactly how I like them! Actually, I've only done that once, haha 🙂
UPDATE: We went back and got the carne asada nachos. We asked for an extra plate and the cashier asked us if we were going to split, and they actually brought it out to us as 2 half-portions on separate plates! That was super nice. It wasn't quite as layered as I thought it would be, but I think it's because it was't as needful since it wasn't all on one plate. They didn't layer the sour cream and guacamole throughout, which is what they did when my dad ordered it (but I actually prefer it on the side anyway). It was pretty good! We liked it. I really liked squeezing lots of lime juice on it 🙂 Next time I think we're going to try it with shredded chicken, to see how we like that as well.
5. Wonderful Salads
I love their salads! I think they're even better than Cafe Rio salads (just my personal opinion), and I love Cafe Rio salads. Why better? 1) It seems like they're just as big (the tortilla may not be quite as huge and thick but I don't mind). 2) They also seem more fresh/healthy, which I like (they include tomatoes and olives and don't have all the chips on top – I think they might have more lettuce too). 3) They're more nicely put together (not just thrown on a plate like at Cafe Rio). They still have the meat, rice, and beans, but I like it better because the beans at Emanuel's are not all soupy like at Cafe Rio, so the salad turns out less soggy. Also, it seems like when I get a salad at Cafe Rio sometimes the rice, beans, and/or meat aren't always super hot, but it seems like everything's fresh off the grill at Emanuel's. 4) Their green salad dressing is very good! It's similar to Cafe Rio's but with a little more of a zing of something.
Last time we went, Alex and I decided that our favorite thing to order now at Emanuel's is a big salad to split and a kid's chimichanga with chile verde sauce. It's now our favorite thing to order when we go together. Great combo!
6. High-quality food
I really like how they offer high quality meat and other ingredients (and at a great price!) It's not just ground beef – it's shredded beef or bits of steak, or shredded chicken, and you can tell the sauces and other stuff are really good quality too. When you walk in, it seems like it's going to be fast food quality, but it's much better. I've been less than impressed at a couple of other Mexican restaurants I've tried where they have burritos stuffed with refried beans and smothered with cheese, but not much else. Yes, very filling and I'll eat it, but it's nothing I couldn't easily just throw together at home.
7. Decent prices
Yummy food at a great price. Especially since the portions are so big. This is perhaps the biggest perk and why we keep going back! If I remember correctly, it ranges from about $5 to $10. The combos are usually $8-$10.
One word of caution –
So my husband probably wouldn't get the chicken burrito again, just because it was way too much meat for him. It was stuffed entirely of meat (no beans or rice) and was humongous. He said jokingly, "I think there's a whole chicken in my burrito!'" But they do offer other good burritos that have more variety of stuff inside, so I'd try one of those instead.* He liked the flautas that came with the burrito though – I tried them and they kind of remind me of giant taquitos, with a harder shell. I don't know that I'd get them again, but they were good.
*I'll tell you what you should try: the House Burrito. We tried it today and it is amazing! I almost want to add an 8th bullet point above just devoted to it. It's filled with steak, shredded chicken, black beans, cabbage, cheese and BACON. It's so flavorful and yummy! And the bacon isn't just little bacon bits but nice big, thick pieces. I am going to recommend it to my dad. I think he would love it. 
*               *               *               *
UPDATE:
We went back the other day and tried the enchiladas. We got the three meat enchilada platter., with 1 pulled pork enchilada and 2 shredded chicken. They were very good. I can't think of much else to say about them. The enchilada platters aren't quite as big/filling compared to some of the other meals we've ordered there (we split it but both could have eaten a little more). Oh and FYI, you'll need to order sour cream separately as it doesn't come with it. Now after having tried all three of the sauces they offer at Emmanuel's (enchilada, chile verde, and tomatillo) I've decided that my favorite is the chile verde. I think we're going to get the tacos next time! We saw them and they look super good!
Oh, I so love Mexican food. Now I'm craving it, bad. Time to eat!